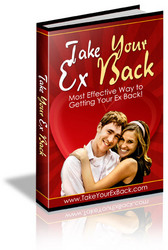 how to get your ex back
San Dimas, California (PRWEB) December 23, 2008 -
The popular "TakeYourExBack.Com" website has announced a cutting-edge book to couples looking to save their relationship. While numerous products are offered today in the area of relationships, and the ever-popular "how to get your ex back" strategy guides, TakeYourExBack.Com has moved past the basic strategies and moved into the psychology behind relationships.
This company has established the "who", "what", "when", "where", and "why" relationships fail, and have established the "how" to repair that relationship on a realistic level so that couples may once again come together and progress through life together. The "how" behind relationship resolution by this company is called "Take Your Ex Back".
Individuals interested in resolving the complications surrounding their relationship may purchase the "Take Your Ex Back" strategy guide by visiting the following website: http://www.takeyourexback.com/ . You can purchase the book, which is offered in the form of an eBook, for the cost of $37.00. Several different types of information are offered in the eBook. One may discover the psychology of relationships and breakups, personal change and progression, as well as many other facts surrounding events and situations that may have occurred as a result of a breakup, and how to overcome the challenges that so many face today.
Angie Shiflett, internet content specialist, states: " I have reviewed a large number of products in my field of work when it comes to relationship guides that are created for the purpose of getting an ex back, and I must say that the eBook offered by TakeYourExBack.Com is the most comprehensive of all of those products. For the individual facing a breakup, or for a person who has gone through the loss of a relationship, I would highly recommend this product. It isn't filled with a whole lot of 'hype', it has real coping techniques, and helps a person truly understand the sole issue in the relationship and work to overcome that..."
For additional information on TakeYourExBack.Com Announces Cutting-Edge Book to Couples Looking to Save Their Relationship, contact Victor Caron or visit http://www.takeyourexback.com.
###