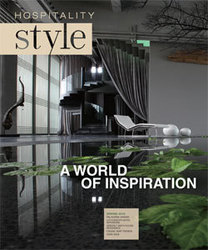 Since last year's hiatus, we started to see some exciting possibilities for how we could reinvent our concept
Cincinnati, OH (Vocus) March 24, 2010
The print edition of Hospitality Style covers hospitality design with the eye of a fashion magazine, identifying trends and showcasing them seasonally in a photo-rich, large-scale format unique to the industry. Published quarterly and printed on premium stock, Hospitality Style is more of an idea book than a magazine. The subscribers include 16,000 designers, architects, operators, purchasing companies and developers who do high-volume work for hotels, restaurants, spas, casinos, cruise ships and more.
Along with the relaunch of the print edition arrives a more robust website (HospitalityStyle.com) with exclusive editorial content and a weekly e-newsletter, Hospitality Style PULSE. The end result is an integration of print and online content unlike any in the industry.
Mary Scoviak, formerly with Hotels magazine, remains as editor of Hospitality Style. Scoviak, who coordinated Hospitality Style's debut issue in 2008, is responsible for the long-term brand development of the magazine. Working closely with associate publisher/executive editor Kristin D. Godsey, Scoviak will direct the strategic editorial decisions for Hospitality Style.
"Since last year's hiatus, we started to see some exciting possibilities for how we could reinvent our concept," says Scoviak. "We created a package that works like our readers work—a package that combines the best of both the Internet and print."
Interested readers may subscribe by visiting hospitalitystyle.com or calling 800-421-1321/513-421-2050, ext. 0 (it's free to qualified subscribers). To advertise or receive a media kit, call group publisher Chris Lyons, at 610-296-3001, ext. 100. A media kit is also available on HospitalityStyle.com.
About ST Media Group International
Located in Greater Cincinnati, ST Media Group International Inc. serves the visual communications industries with its trade publications, branded websites, a custom book division and industry events. Publications include Visual Merchandising and Store Design, Screen Printing, Signs of the Times, The Big Picture, Package Design Magazine, Industrial + Specialty Printing and Signs of the Times & Screen Printing en español.
###