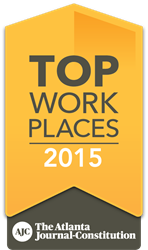 Atlanta, Georgia (PRWEB) March 23, 2015
Relus Technologies is pleased to announce that it has been selected as one of The Atlanta Journal Constitution's Top Workplaces in Atlanta for 2015.
The Top Workplaces are determined based solely on employee feedback. The employee survey is conducted by WorkplaceDynamics, LLP, a leading research firm on organizational health and employee engagement. WorkplaceDynamics conducts regional Top Workplaces programs with 40 major publishing partners across the United States. Over the past year, more than 5,000 organizations and 1 in every 88 employees in the U.S. have turned to WorkplaceDynamics to better understand what's on the minds of their employees. Through its workplace improvement offerings, WorkplaceDynamics provides solutions, training and tools to help clients improve their workplace.
One of the top priorities of Relus Technologies' leadership team is to make sure all employees not only enjoy coming to work, but that they also feel valued. From the weekly catered lunches and daily snacks to the in-house ping pong room and immaculate lounge (complete with massage chairs), Relus gives its staff outstanding perks that go over and above.
"One of my goals in starting Relus Technologies has been to create an exceptional work environment," says Mark Metz, CEO of Relus Technologies. "We promote, embrace, and reward teamwork at Relus, and being a top workplace makes that goal easier to accomplish."
The Atlanta Journal Constitution published the complete list of Top Workplaces on March 22, 2015. For more information about the Top Workplaces lists and WorkplaceDynamics, please visit http://www.topworkplaces.com and http://www.workplacedynamics.com.
About Relus Technologies
Relus Technologies specializes in optimizing enterprise IT by creating options, delivering value, and eliminating risk. The company's solutions suite helps extend the life of enterprise data center infrastructure, supports data center transformation, streamlines cloud enablement, and delivers top IT talent. For more information, visit relus.com.