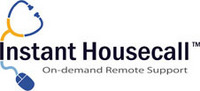 Toronto, ON (PRWEB) August 21, 2007
Instant Housecall Inc. has released Instant Housecall v.3.4, a secure, powerful application that lets you take temporary control of your clients' remote Windows computers through firewalls.
From the comfort of your office, you can deliver remote support, transfer files, run programs, perform diagnostics and even reboot a client's machine. Instant Housecall lets you dramatically enhance the technical support that you provide directly from your office or home, instantly and securely.
When your clients need computer support, they simply run Instant Housecall, type their support request and invite you to help them.
When you receive a client's invitation, you create a temporary, secure session in which you take control of your client's desktop computer.
Instant Housecall is firewall- and router-friendly, allowing you to contact the client's computer and access it as if it were on your desktop.
The session is secure, and when it ends, your client has the peace of mind of knowing you can no longer access his or her computer, unless you receive an invitation to start another session.
Installation of Instant Housecall on customer computers is fast and Web-based, and it requires no technical knowledge about ports, routers or connections.
Instant Housecall is fully Vista compliant, and it supports clicking Vista UAC Accept or Deny prompts remotely. The program is designed to let each of your technical specialists support up to 10 customers simultaneously.
During each remote support session, your customer can participate in a two-way chat with your technical support person - there's a two-way clipboard that allows information to be passed back and forth.
With its emphasis on security, the program features session logging, SSL encryption and configurable security settings.
Because of identity theft and other security considerations, many clients are reluctant to allow access to their computers. With Instant Housecall, customers initiate the request for help. Once a support session is complete, all connections are closed.
Additional features include the ability to reboot customers' computers, automatic recovery from accidentally dropped connections, support for rebooting in safe mode, and pager, SMS and e-mail notifications of support requests.
Whether you're a computer dealer, a software vendor who wants to elevate your product support performance to a higher level, a help desk manager who is responsible for providing in-house support to computer users across the enterprise or a computer consultant who needs to solve clients' problems in real-time Instant Housecall has the tools that you need.
For more info: http://www.instanthousecall.com
###