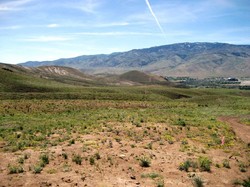 These properties, and countless others like them, have proven resistant to traditional marketing methods
Newport Beach, CA (Vocus) November 9, 2010
The LFC Group of Companies, leaders in online real estate auction marketing, has launched a new campaign on their commercial and land auction website LFC.com for seven REO properties owned by one of the twenty largest banks in the country. The auction includes large land parcels in central California and Nevada, and represents a tremendous opportunity to take advantage of a motivated seller to purchase prime development land at discount prices.
The online auction is the latest in a series of LFC campaigns for bank-owned commercial properties and land located across the country.
"These properties, and countless others like them, have proven resistant to traditional marketing methods," said LFC's Director of Sales Shawn Miller. "Nowadays, it takes a different approach to attract market attention and motivate buyers who are overwhelmed by investment opportunities."
The auction offers several large land parcels with strikingly low minimum bids, including:

A ±40 acre residential land parcel in northern Sacramento, part of a large master-planned development called The Panhandle, has a minimum bid of just $295,000.
±960 acres of vacant land mapped for 676 residential units within the proposed Mortensen Ranch master-planned development in west Reno, Nevada. This property has a low minimum bid of just $995,000.
Two separate land parcels near downtown Clovis, a suburb of Fresno, one totaling ±8 acres, the other comprised of ±18 acres. The smaller property has a minimum bid of $125,000. The larger parcel, which is zoned for multi-family residential development, has a minimum bid of $350,000.
Three adjacent vacant residential land parcels, ranging in size from ±18 acres to ±20 acres, near downtown Yucca Valley, in San Bernardino County. The properties are being sold separately, and have minimum bids between $12,500 and $15,000.
"This auction contains some extraordinary investment opportunities for serious real estate buyers," said Miller. "The seller has demonstrated that they are absolutely motivated to sell these REO properties by setting very low minimum bids and letting the market dictate value through bidding in the auction."
As with all of LFC's campaigns, this auction will be held entirely online, removing the need to spend hours in a crowded ballroom with all the unwanted pressure and intimidation that comes with an outcry auction. Interested buyers can view due diligence materials online by visiting the auction website at LFC.com/951R2. Bids must be submitted by December 16, 2010.
LFC Group of Companies
For more than 30 years, the LFC Group of Companies has successfully auction marketed thousands of commercial, industrial, land and residential properties, with sales in excess of $5 billion, and has been solely conducting online real estate auctions for over six years. With a history of success serving numerous Fortune 500 companies, real estate developers, investors, financial institutions, government agencies and commercial brokerages, the company offers the complete suite of real estate disposition strategies with auction marketing programs for a range of assets, from mortgage notes to real property.
###