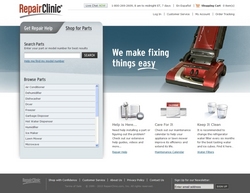 This new launch demonstrates RepairClinic's commitment, and our continued efforts to utilize all the resources available, to provide those customers with the highest quality service in the online retail industry.
Canton, MI (Vocus) October 13, 2010
RepairClinic.com, the world's largest online retailer of appliance parts and free online repair help, reached a new milestone and has set the standard in online retail customer service. On Wednesday, Oct. 6, 2010 they launched a new state-of-the-art website to provide customers with the highest quality service. This new site features, among other innovations, a new part-search engine loaded with additional part information; a more refined, but customer-friendly checkout process; and expanded product lines. Visit RepairClinic.com to experience one of the most effective online retail websites in the industry.
"Since 1999, our success has been founded firmly in customer service," said Chris Hall, president. "This new launch demonstrates RepairClinic's commitment, and our continued efforts to utilize all the resources available, to provide those customers with the highest quality service in the online retail industry."
RepairClinic's newly enhanced "Shop for Parts" search engine is unlike any other in the appliance-parts industry today: it unites customers with their parts more quickly and easily than ever before. Customers can locate any part for any product with just a few clicks of the mouse. The part selections are titled more clearly for easier identification and our inventory of parts are re-categorized for more accurate search results. Searching by model number provides the most accurate result; however, a search can also be generated from menus or keywords. They can select or deselect search criteria at any time and in any order; generating a new set of results each time.
Providing a model number generates the most accurate result when searching for a part. RepairClinic's exclusive "Model Number Identification" videos help customers identify the product's model-number tag and its location on the product. Each video displays a rotating 3-D computer-generated illustration (CGI) of the product showing clear views of possible tag locations. Also available for quick reference are static 3-D illustrations of possible tag locations for each product.
Identifying parts is made easier on RepairClinic's new "Part Detail" page which gives clear and precise part descriptions and displays larger part images. Most part images appear on a 1-square-inch grid, and can be viewed at twice their size for a more detailed view of the part. Many parts also have a "RepairGuru Tip" offering additional helpful information about the part. RepairClinic assigns a skill-level rank to many parts: "one wrench" means an easy repair; "four wrenches" means a difficult repair that may need a repair technician.
RepairClinic's new and innovative checkout process allows customers to view, modify, and complete their order with ease. RepairClinic has combined all of the checkout information onto one page to simplify the process. The customers complete each section, and review their order before submission to prevent any errors. A clear, concise order-confirmation page appears for printing for the customers' records.
Tracking an order is made easier than ever directly from RepairClinic's website. Customers click on "Order Tracking" from any page on the website, "Log In" to their account, and click on the order number they want to track. Customers will view the ship date, shipment method, and the tracking number linked to the carrier: either the FedEx or USPS website. Customers can still contact "Customer Service" for order information, but online access is now much quicker and easier.
RepairClinic is expanding their online parts service with new product lines including outdoor power equipment, and vacuum cleaners. They offer both OEM and after-market parts for 24 brands of walk-behind lawn mowers, riding lawn mowers, zero turn radius (ZTR) lawn mowers, and small engines. RepairClinic also offers an entire inventory of OEM replacement parts and accessories for seven brands of vacuum cleaners.
About RepairClinic:
RepairClinic.com® is an online retailer of replacement parts for household appliances, vacuum cleaners, lawn mowers, and outdoor power equipment. RepairClinic has an extensive inventory of more than one million parts for over 100 different brands and has an incomparable return policy allowing any part to be returned within 30 days for money back. RepairClinic assists more than 75,000 customers each month with free repair help, including videos, diagrams, and customized repair diagnosis. RepairClinic operates an 86,000 sq. ft facility in Canton, MI, that employs over 100 employees. For more information, please visit http://www.RepairClinic.com.
Media Contact: Raina Bell, PR Manager, RepairClinic.com, 734-495-3079 Ext. 266 or 734-231-7432
###