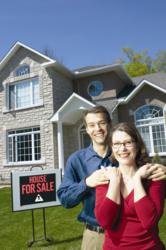 We are always happy to come in for a no-cost walk-through of a property if the client is serious about making an offer.
San Francisco, CA (Vocus/PRWEB) January 14, 2011
Shopping for the perfect home is like looking for a needle in a haystack. It can happen, but more often than not, people compromise and settle for a house with 'potential' that can be achieved with a remodel or addition.
Real estate agents want to be sure their clients are happy and, if a certain compromise is holding up the sale, a skilled agent will try to help their clients determine what can be done about the problem.
With their experience and training in the ups and downs of the real estate markets, agents can weigh the impact of various changes on future resale values; however, it is increasingly risky for a real estate agent to offer clients advice about the viability of potential construction projects. Any wrong or misleading information can put the sale at risk or come back to bite them in the form of a lawsuit after closing.
The best move a real estate agent can make is to get an architect to take a look at the property before their clients submit an offer. It is important to find an architect who is knowledgeable about the local building climate, government agencies (such as the Planning Department), and the permit process. He or she will be able to assess the proposed project and let the homeowner and agent know if it is viable, how long the approvals might take, and what the major hurdles will be.
"We are always happy to come in for a no-cost walk-through of a property if the client is serious about making an offer," says Geoff Gibson of Winder Gibson Architects. "We work with clients to visualize the potential of those gem-in-the-rough properties and help them avoid buying something they can't work with."
John Winder of Winder Gibson Architects in San Francisco outlines some of the major points to consider when assessing a project on a property:
1) Adding another story or expanding out the back of the home may not be permitted by local zoning height limits and setbacks (the distance a structure must be from the edge of a lot).
2) Identify some of the smaller 'easy-fix' problems that are driving the sales price of the home down to determine if they can be resolved.
3) Determine if the remodel or addition will require a structural or seismic upgrade. What elements of the existing home need to be upgraded?
4) What is the timeline for obtaining permits for the work? Will the family be able to move in right away or should they wait until the construction is completed?
5) What is a realistic budget for the work? Be sure to budget for the carrying costs of living in a rental unit while the home is being remodeled.
6) If the remodel cannot be fully financed right away, can it be accomplished in phases?
Real estate requires a team approach, with a good agent, mortgage lender, title company, and appraiser. Adding an architect to the team ensures the buyer has the correct information they need to make a solid decision about the property they intend to buy.
For more information about Winder Gibson Architects' free pre-purchase consultation service, contact Geoff Gibson at 415-318-8634 X4003. To see photographs of Geoff Gibson and John Winder's projects, including the recently completed Market Street penthouse for YouTube co-founder Steve Chen, visit their website http://www.archsf.com.
About Winder Gibson Architects
Winder Gibson is a commercial and residential architect in San Francisco that specializes in commercial and residential remodeling and architecture in San Francisco and beyond. Both John Winder and Geoff Gibson have worked on a variety of projects, including exterior and interior design for new construction, additions, roof decks, bathroom and kitchen remodeling, and the renovation of historical buildings. Due to their experience and reputation, Winder Gibson's clients frequently include other design professionals.
###