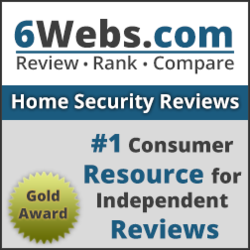 Compare the leading home security systems providers online at 6Webs.com.
Oakland, CA (PRWEB) March 30, 2013
6Webs.com recently released their reviews of the best residential security systems in 2013. Each year 6Webs.com conducts reviews of dozens of home security systems providers and ranks them according to several factors including monitoring technology, customer service, equipment, remote access and warranties provided. Dozens of companies are reviewed however only the top win the coveted Gold, Silver and Bronze awards.
The two top home security companies in 2013 are FrontPoint Security and ADT Security. Both companies have outstanding customer service records and offer their home security customers with the latest brand name equipment. The real difference comes down to installation method. FrontPoint Security offers their customers wireless home security systems that are shipped to the customer's home for a self-install. The typical installation takes less than 15 minutes to perform as the home security system is pre-configured at FrontPoint Security.
ADT Security on the other hand only offers professional installation services of their home security systems. The advantage of having a home security system professionally installed is that the customer is able to see a live demonstration on how to use the system in the comfort of their home.
Tim Smythe the senior editor of 6Webs.com states, "The top home security companies rated on 6Webs.com all provide outstanding services to their customers and offer the latest home security technology complete with remote access. It really comes down to a customer's preference. The 6Webs.com review team sees a lot of the younger generation go for the self-install home security systems."
To view and compare the leading home security system providers online visit 6Webs.com at:
http://www.6Webs.com/best-home-security-systems/
About 6Webs.com
6Webs.com is the leading consumer resource for independent and unbiased home security systems reviews. 6Webs.com focused on delivering the latest information about the top home security system providers so consumers can make an educated buying decision and purchase the best security system for their home and family.