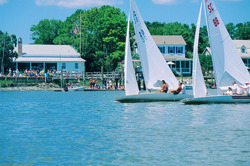 Charleston, SC (PRWEB) June 23, 2008
Regatta season is in full-swing in Charleston. The historic port city, its resort islands, and the surrounding area are full of boating enthusiasts seeking adventure, balmy breezes and smooth sailing. There are several sailing events that aim to satisfy, offering sport and fun on the water.
ResortQuest is offering visitors to Kiawah Island, Seabrook Island, Isle of Palms and Wild Dunes exciting and exclusive ways to save, all while staying in fully-equipped private homes, villas and cottages. The area offers miles of pristine beach, championship golf, tennis, biking, nature tours, shopping, dining, water-related activities and more. A program called ResortQuest Privileges offers special rates and discounts on activities, tours, dining, and shopping from area venues.
The Charleston Yacht Club Open Regatta will occur July 19-20. This is a Points Regatta for the South Atlantic Yacht Racing Association (SAYRA) Junior Series and is open to all one-design boats with 3 or more boats registered. The Carolina Yacht Club will hold their 2008 Open Regatta on July 26-27. The Rockville Regatta, on August 2-3, allows sailors to race the waters of Bohicket Creek and the North Edisto River,while spectator boats enjoy the backdrop of shrimp boats and the unspoiled beauty of this quaint little village. Both the James Island Yacht Club and the Hobcaw Yacht Club in Mount Pleasant held regattas in June. Charleston Race Week, a highly competitive annual premiere One-Design, PHRF, and IRC regatta, is in April each year.
For anyone who may not be familiar with the term, a regatta is most often defined as a series of sail boat races usually occurring over a weekend. You don't have to know port from starboard to appreciate the elegant silhouette of sailboats tacking into the wind, or the skill it takes to cruise the Lowcountry's rivers and creeks. Many a seafarin' lad and lass enjoy testing their competitive prowess in these races, and for those that would rather watch than do, the social aspects of such events can be particularly appealing. On or near the water, is a great place to see old friends and meet new ones.
About ResortQuest:
ResortQuest is one of the nation's leading vacation rentals and resort real estate companies. Featuring great destinations, such as Destin condos, ResortQuest.com provides a one-stop resource in North America's premier resort destinations ResortQuest Charleston is the largest vacation rental company serving Charleston and the beach resort islands of Kiawah, Seabrook, Isle of Palms, Wild Dunes and Sullivan's Island. ResortQuest has offices located on Kiawah Island, Seabrook Island and Isle of Palms, South Carolina.
###