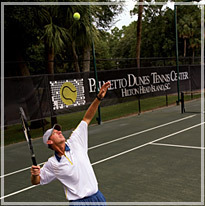 Hilton Head Island, SC (PRWEB) January 7, 2009
Hilton Head Island has established a reputation as a number one choice for elite travelers, with immediate access to the nation's best golf, tennis, cultural festivals, water sports and wide sandy shorelines. With over 300 courts, the tennis fanaticism in this picturesque island stands above almost all else. Hilton Head is the distinguished home to three of Tennis Magazine's Top 50 US Clubs: Palmetto Dunes Tennis Center, Sea Pines Racquet Club and Van Der Meer Tennis Center.
Guests searching for the perfect HIlton Head tennis vacation need look no further than ResortQuest Hilton Head Island. ResortQuest offers an amazing selection of lodging accommodations and vacation rentals in Hilton Head Island Island, many with private and complimentary access to these storied tennis clubs. In addition, ResortQuest guests can enjoy immediate tennis access at any number of other local courts, including the Chaplin Tennis Courts, Cordillo Courts, Hilton Head Beach and Tennis Resort, Port Royal Racquet Club, the South Beach Racquet Club..
Throughout the year ResortQuest Hilton Head Island offers discount tennis and lodging packages, giving marked discounts on premier vacation homes through the island, paired with free access to courts. Visit the ResortQuest Hilton Head Island's website for the best deals and discounts on tennis and lodging or contact a vacation specialist at 800.875.8726 for details.
About ResortQuest:
ResortQuest, one of the nation's leading vacation rentals and hospitality and resort real estate companies, provides a one-stop resource for vacation bookings in North America's premier resort destinations. ResortQuest is the largest marketer and management company of vacation condominiums and home rentals in the United States, based on a portfolio of over 10,000 vacation rental properties. With the inclusion of Partner Affiliates in North and South America, the Caribbean and Europe, ResortQuest now offers over 50,000 vacation rentals choices in over 100 destinations world-wide. With over a billion dollars in sales, ResortQuest Real Estate is one of the nation's leading real estate companies focusing exclusively on resort properties, offering superior brokerage services in the country's premier beach, ski and golf destinations.
###