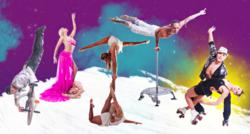 Manila (PRWEB) March 23, 2013
There is more to an ensemble of performers onstage amidst stunning lights and intense music. Genuine entertainment must capture hearts and minds, making each performance an unforgettable experience. When it comes to experiences of a lifetime, one can expect Resorts World Manila to deliver.
Unique Shows
Flown in from around the world, astonishing gymnasts and acrobats showcase brilliant choreography, thrilling stunts, amazing discipline and grace. Powerful vocal acts join them to create one electrifying show like no other.
It is an amazing experience for guests and visitors every time the Rock Of 80's and The Legends perform at Bar 360. Both shows feature European performers side-by-side with some of the country's best singers: Timmy, Chris, Primo, opera singer Fame and a one-man symphony Bryson Andres.
Bar 360 is also home to the country's most sought after live acts such as the multi-awarded show band, Draybers.
World Class Theater
RWM's state-of-the-art Newport Performing Arts Theater (NPAT) has been the venue of choice for highly anticipated events.
The blockbuster film franchise 'The Bourne Legacy' chose NPAT as the location for its 2012 Asian premiere. Guests were impressed by its 1,500 plush seats, luxuriously-designed interiors, larger than life LED screen, intelligent lights and excellent audio capabilities.
Grammy-award winning musicians Chris Botti and David Benoit have also graced the NPAT stage.
NPAT also happens to be the home to a number of award-winning theater productions that boast of an all-Filipino ensemble.
Proudly Filipino
Resorts World Manila's award-winning theater productions are a testament to its commitment to nurturing performing arts in the country.
2010 saw KAOS merge the glamor of Broadway with the glitz of Las Vegas. The following year, The Sound of Music earned the distinction of being the only Rodgers and Hammerstein musical with the longest run in Southeast Asia, and the only Broadway musical with the longest run in the country.
Currently reaping awards from both local and foreign critics alike, Aliw Awards' Best Musical Production for 2012, The King and I was talked about by avid theater fans across the region, establishing Resorts World Manila's presence in the local theater scene.
Coming Soon
This September, another Rodgers and Hammerstein classic will be brought to life at NPAT: Cinderella. Blending unforgettable songs with a timeless love story and visual magic, this forthcoming triumph is sure to entertain both young and old.
Guests can visit http://www.rwmanila.com for more information on Resort World Manila events and show times, or call the Tourist/Visitor Hotline at (632) 836-6333.
Resorts World Manila (RWM) is the first integrated tourism destination in the Philippines. Conveniently located across Ninoy Aquino International Airport 3, RWM is your gateway to Philippine hospitality. This lifestyle hub is home to three international lodging brands: Maxims Hotel, the first all-luxury suite hotel in the country; Marriott Hotel Manila, a five-star brand known all over the world; and Remington Hotel, for travelers on the lookout for real value.
RWM's Newport Mall features luxury retail brands from all over the world. It offers a unique viewing experience at The Newport Cinemas with its state-of-the-art cinema technology. World-class plays and performances are staged at The Newport Performing Arts Theater, the metro's multi-awarded events venue.
RWM is also home to the biggest gaming facility in the Philippines. RWM offers free membership that gives guests access to rewards, discounts, freebies, and exclusive invites to RWM events.