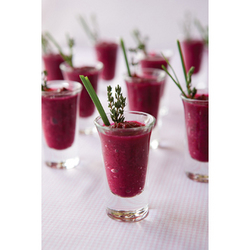 The great recipes we featured in our magazine throughout the years are now available to today's cooks, all over the world.
Traverse City, MI (Vocus) April 17, 2008
Traverse, Northern Michigan's Magazine today launched its new website, MyNorth.com, giving food and wine lovers access to the magazine's rich, in-depth coverage of Northern Michigan culinary culture and foodie news. MyNorth.com readers can access recipes, restaurant listings and food and wine features from the archives of Traverse plus stories written specifically for MyNorth.com.
"Whether one is an experienced chef or someone who just wants to try something new, the food and wine stories on MyNorth.com will tempt you," says Emily Betz Tyra, Traverse food editor. "Readers will find the latest news and insider tips, like where to find a candle-lit Greek dinner spot in Cheboygan, ice-cream wedding cakes or a recipe for
roasted asparagus bundles with blue cheese and crumbled bacon."
To help foodies satisfy immediate cravings, MyNorth.com has a restaurant directory and recipe database. There are also feature articles covering all the broad culinary experiences Northern Michigan has to offer. New items are added daily, and old favorites from the magazine's 27-year history -- like a popular holiday recipe for cranberry-apple crisp--are accessible 24/7.
Thirsty for wine information? Drink in the stories on MyNorth.com's wine tours page. Beer lover? Search through stories about the North's greatest microbreweries and events, like a story on Tom Buchanan's Ludington Brewery or info on the annual Timber Ridge Suds & Snow outing. And watch for a beer tasting video, expected by early summer.
"MyNorth.com brings the world to Northern Michigan's food and wine," Tyra explains. "The great recipes we featured in our magazine throughout the years are now available to today's cooks, all over the world." Readers from more than 60 countries, all 50 states and the District of Columbia have visited MyNorth.com. And the Food & Wine section is among the top webpages attracting traffic.
"Of course the only way to truly get a taste of Northern Michigan is to cook with our world-renowned local, seasonal fare or visit the restaurants Up North who do," Tyra says. "There's no substitute for the real thing, fresh from the farmers market, the Great Lakes or the forest."
About Prism Publications, Inc.:
Prism Publications, Inc., founded in 1981 by Deborah Wyatt Fellows, publishes MyNorth.com, Traverse, Northern Michigan's Magazine, Northern Home & Cottage and Destination Northern Michigan, a Northern Michigan travel guide, in addition to several other print and online publications. Traverse and its staff have won more than a dozen national and international awards for excellence, including most recently "Magazine of the Year" from the International Regional Magazine Association and a 2007 silver award for general excellence from the City and Regional Magazine Association. Prism has also published Reflections of a Life Up North, a coffee-table book of stunning photography from Traverse paired with a collection of Fellows's columns, which has been reprinted in an expanded edition. Prism Publications is also a proud sponsor of many events including the Cottage & Lakefront Living Show, the Michigan Log & Timber Expo, The Epicurean Classic and the National Cherry Festival's Cherries D'Vine event. The privately held company is headquartered in Traverse City, Mich. For more information, visit MyNorth.com [mynorth.com] or call (231) 941-8174.
###