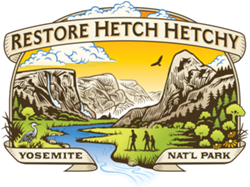 We are excited to share our 2019 plans with supporters -- plans that we believe will advance the restoration of Yosemite's Hetch Hetchy Valley, while assuring that not a single drop of water supply is lost
BERKELEY, Calif. (PRWEB) March 21, 2019
Restore Hetch Hetchy today announced that National Park Service leaders David Mihalic, former Superintendent of both Glacier and Yosemite National Parks and Mia Monroe, Marin Community Liaison at Muir Woods, will keynote its 11th annual fundraising dinner on Saturday, April 13th. The dinner, which celebrates Restore Hetch Hetchy's plans for returning Hetch Hetchy Valley to Yosemite National Park, will be held at the historic Berkeley City Club, a stunning venue designed by famed architect Julia Morgan, who also designed Hearst Castle. Tickets for the dinner are available at https://www.hetchhetchy.org/2019annualdinner.
"We are excited to share our 2019 plans with supporters -- plans that we believe will advance the restoration of Yosemite's Hetch Hetchy Valley, while assuring that not a single drop of water supply is lost," said Restore Hetch Hetchy Executive Director Spreck Rosekrans. "San Francisco's exclusive use of Hetch Hetchy is unprecedented and unacceptable. Park visitors, past, present and future, deserve better, and we are committed to returning Hetch Hetchy to public use."
The annual dinner honors individuals for their contributions to America's national parks, to Yosemite and to restoring Hetch Hetchy Valley. Mia Monroe will receive The Stephen Mather Visionary Award, named in honor of the founding director of the National Park Service. David Mihalic will receive The John Muir Heritage Award for having had a significant impact on the effort to restore Hetch Hetchy Valley to its original splendor.
"I can think of no better way to launch our 2019 campaign than to honor Dave Mihalic and Mia Monroe. After all, the National Park Service was created in the wake of the national outcry over damming Hetch Hetchy Valley," continued Rosekrans. "Dave Mihalic's tenure at Yosemite National Park may be over, but his commitment to restoring Hetch Hetchy Valley is as strong as ever. Mia Monroe's inspired outreach at Muir Woods embodies John Muir's very spirit for 21st century park visitors."
David Mihalic's career in the National Park Service has included stints as Superintendent at both Glacier and Yosemite National Park. From 2016 until 2018, he served as Special Advisor to the Secretary of Interior. As a young man, Dave learned about Hetch Hetchy's destruction as a reason not to allow proposed dams to flood Yellowstone and Grand Canyon National Parks. He doesn't believe we need to live with this century old mistake and is committed to restoring this national treasure.
Mia Monroe is Marin Community Liaison at Muir Woods. She has long walked under the influence of John Muir and enthusiastically extols the value of nature twined with activism. Mia is presently charged with engaging local interest to restore health to the Redwood Creek Watershed while still welcoming the public. As a volunteer, Mia works for monarch butterfly conservation. She looks forward to the lush milkweed meadow habitat that a restored Hetch Hetchy Valley will provide.
The 11th annual Restore Hetch Hetchy Dinner, which also includes a silent auction that is already available online at BiddingForGood, will take place on April 13th at the Berkeley City Club, 2315 Durant Avenue, Berkeley, CA. Reception begins at 6:00 pm, followed by dinner at 7:00 pm.
For information on purchasing tickets, contact Julene Freitas: julene(at)hetchhetchy(dot)org / 510-893-3400 and for more information on Restore Hetch Hetchy, go to: http://www.hetchhetchy.org/. The online auction can be accessed at http://tinyurl.com/y28x5zd3.
INTERVIEWS: We will gladly arrange interviews with Restore Hetch Hetchy Executive Director Spreck Rosekrans or former Yosemite Superintendent David Mihalic.
ABOUT RESTORE HETCH HETCHY: The mission of Restore Hetch Hetchy is to return the Hetch Hetchy Valley in Yosemite National Park to its natural splendor while continuing to meet the water and power needs of all communities that depend on the Tuolumne River.
Contacts:
Media Relations
Melanie Webber, mWEBB Communications, (424) 603-4340, melanie(at)mwebbcom(dot)com