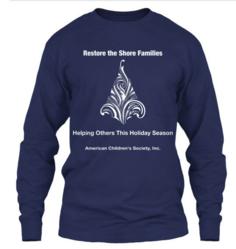 "We are committed to helping restore the shore families."
-Jacquelin Lauritsen, Assistant Director, American Children's Society
Marlboro, NJ (PRWEB) November 26, 2012
"There are still over 100 families in area shelters," says the American Children's Society's assistant director, Jacquelin Lauritsen. "And, there's no total on just how many are still staying with family or friends because they have no home to return to. Hurricane Sandy, and the ensuing Nor'Easter devastated many New Jersey families."
"We have applications from over 45 families that we'd like to make the Holidays happen for. Most of these families rented the homes they still can't return to. The children's wish list's are really just for basic things like new coats, and new shoes. We've created this Limited Edition, long sleeve, Holiday T to help us help the families recover from this natural disaster. It's available in our online charity shop."
About The American Children's Society:
The American Children's Society is a NJ based organization, that provides a caring resource in which temporary and timely assistance is given to children and their families who find themselves in need of clothing, food, and emergency assistance.