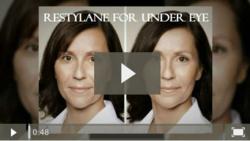 From "I'm tired of looking tired" to "Wow, I look so much more refreshed" takes about 15 minutes start to finish.
Irvine, CA (PRWEB) September 22, 2012
With busy lives and even busier and more demanding careers, it's little wonder a large majority of the population often look tired. A huge tell-tale of longer hours and increased stress is dark circles and hollows under the eyes.
Few of us haven't had days when we look in the mirror and think "Ugh, I look so tired!" The problem comes when MOST of our days prompt that same thought.
Dr. Nissan Pilest, a 33 year plus dermatologist in Orange County, California muses as to some of the suspected reasons for what is an obvious increase in the volume loss-created look of fatigue – even in younger people. Lack of rest, already noted, surely plays a big role – but the bigger questions might be, "Does lack of sleep or stress create physiological events that can actually promote volume loss?" And – "Does eye fatigue from computer use result in the body's inability to maintain volume under the eye?"
His curiosity as to the correlation of lifestyle and appearance changes has no certain answers. And although common sense would dictate we get more rest and remove excess stress, realistically he acknowleges that is not an option for most of today's professionals or busy moms.
There are no medical studies to pinpoint all the causes of the problem, but it's an issue that seems to be "blooming". As a dermatologist who sees thousands of patients yearly, he says, "There is no doubt in my mind that there is unequivocally a higher number of people who experience obvious volume loss under the eyes now than in the past 10 years.
"And age seems to be no marker. You expect someone in their 40's and beyond to lose volume in that area. But I see many young men and women in their early 30s – sometimes even 20's - with under eye hollows who need an immediate remedy; who worry that they aren't looking as fresh and powerful as they should in the corporate world. It worries them that looking tired will cause them to be passed over for promotions or not chosen for high profile projects. Competence may be obvious, but they say they are aware that looks play a big role in who gets the plum assignments and associated income.
"As with the advent of Botox for dispensing with frowns and worry lines, we have tools that make it exceedingly easy to erase the appearance problems resulting from volume loss under the eyes –dermal filler gel. At this time, the most results-proven product for under eye hollows is Restylane as it has a viscosity and lift capability that works very well with the thinner under eye tissue and provides a volume replenishment that lasts for most around 12 months."
Dr. Pilest notes consistent patient satisfaction and says patients can go from "I'm tired of looking tired" to "Wow, I look so much more refreshed" in about 15 minutes start to finish. Small lines can be smoothed with a new softer gel for fine lines called Belotero for a full under eye rejuvenation. Plus the use of smooth tipped cannulas prevents most bruising and makes the procedure virtually painless.
As to darkness – most of the "dark" is actually only shadow from the sunken area under the eye and once that is filled, there is no more "dark" – but, there are some patients who have a genetic tendency toward extra pigmentation in that area. Genetic darkness can't be overcome with fillers, but if there is both pigmentation and volume loss, the volume changes will certainly have a positive impact.
Darkness can also come from simple fatigue, mineral deficiency, illness or exceptionally thin skin that allows color show through of the blood vessels in the skin.
Dr. Nissan Pilest is a Board Certified Dermatologist in private practice since 1979 in Orange County, California. He is training physician for most of the FDA approved wrinkles fillers and relaxers - and a laser trainer for Fraxel and Candela,
Dr. Pilest is an active Assistant Professor at the University of California Irvine and the 2012 President of the Dermatological Society of Orange County. His Irvine dermatology clinic, Total Dermatology, is located near the Spectrum in Irvine, Ca.
Total Dermatology - 16100 Sand Canyon Avenue, Suite 190, Irivne, California. Contact phone is (949) 727 3800.