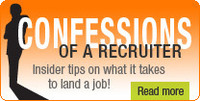 It requires some homework to make sure the words you use lead you to your ideal job - or at least to the interview table
New York, NY (PRWEB) March 31, 2009
A new online job hunt guide written by top recruiters says candidates' old school approach to resume writing and portfolio design may need some strategic revisions to get attention in a workforce flooded with highly qualified candidates vying for the same positions. 'Confessions of a Recruiter' is a compilation of insider tips on what it takes to land a job from employment experts at 24 Seven, a leading global recruiting agency in the fashion, retail, marketing, advertising, creative services and entertainment industries. The free online job hunt resource is available to view online at http://www.24SevenTalent.com/confessions.
In addition to highlighting qualifications and experience, using targeted resume keywords is among the most effective techniques to cut through the clutter and land interviews, according to Kathleen O'Grady, Director of Recruiting at 24 Seven and contributor to 'Confessions of a Recruiter.' "In today's economy, most industries have a bottleneck of new applicants over a limited number of choice positions. Keywords are more vital than ever for resumes, cover letters and your own searches for job openings," says O'Grady, and choosing the right words, she says, takes more than a few lucky guesses. The online resource reviews research techniques, top keywords used marketing, creative and fashion clients at 24 Seven, and placement strategy that help candidates crack the code of applicant management software used by many hiring managers today. "It requires some homework to make sure the words you use lead you to your ideal job - or at least to the interview table," she says.
Vice President of Full-Time at 24 Seven's Los Angeles office, Tammy Chatkin, says a portfolio is equally important in the interview process and should never be an afterthought or something that's put together hastily. "A portfolio is a statement of a candidate's creative vision and should offer hiring managers a true insight into the caliber of work you have done," says Chatkin. 'Confessions of a Recruiter' offers candidates detailed analysis of portfolio design and suggestions for keeping content up-to-date and relevant to the positions up for bid.
In addition to the online guide, 24 Seven Talent offers career enhancement services such as specialized training, educational seminars, industry news, events, workshops and discounts for career and personal services. For a listing of candidate services and events, visit http://www.24SevenTalent.com/events.
About 24 Seven
24 Seven provides leading companies with creative talent with expertise in all areas of the consumer experience and every phase of the product life cycle. With locations in New York, Los Angeles, Orange County, San Francisco, Seattle and London, the company is a global clearinghouse for recruitment and workforce strategy among the most successful hiring managers in fashion, retail, marketing, advertising, creative services and entertainment industries. A certified Women's Business Enterprise, 24 Seven is the recipient of the prestigious Ernst & Young 2007 Entrepreneur of the Year Award in the Business Services category in the Metropolitan New York area. For more information about 24 Seven, visit http://www.24seveninc.com.
# # #