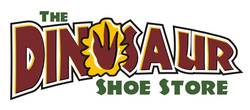 Toledo, OH (PRWEB) October 29, 2009
Children's footwear retailer KidzFeet is proud to announce the official launch of The Dinosaur Shoe Store, an e-commerce website dedicated to fulfilling the wants and dreams of toddler boys throughout the United States. The site, which officially opens its doors to consumers today, features more than a dozen different styles of dinosaur shoes, t-shirts, hats and backpacks from footwear manufacturer Dinosoles, of Chatsworth, CA.
"Dinosaurs have long been a fascination of young boys, and we have seen strong demand for dinosaur-themed footwear on our other kids shoe website, MyKidsFeet.com," said entrepreneur Alex Curavo. "We started accepting pre-orders for the new Dinosoles T-Rex shoes from Dinosoles in July, and have seen pre-sale activity that is almost unheard of in the children's shoe industry. That strong demand was what led us to create a web property dedicated specifically to dinosaur shoes and accessories."
Dinosaur-themed products are expected to be among the hottest sellers this Christmas, thanks, at least in part, to the release of the Twentieth Century Fox animated film Ice Age: Dawn of the Dinosaurs, which was the third film in the Ice Age trilogy. "Dinosaurs have always been popular with kids, and young boys in particular, but we have seen a surge in demand for dinosaur-related merchandise," said Curavo. "For the first time, we have expanded our product selection beyond just footwear, to include dinosaur backpacks, hats, t-shirts, and sales are stronger than ever."
"Many people think that we are crazy for expanding our business during such tough economic times, but our sales have been up almost every month this year," said Curavo. "While other retailers are closing stores and preserving cash, we are actually increasing our investment to take advantage of a marketplace where many local retailers have gone out of business, and consumers are turning to the web for convenience. It is a strategy that has paid off for us thus far, and we will continue to invest in our business as long as the marketplace dictates that such investment is warranted."
KidzFeet expects sales of dinosaur-related products to exceed 40% of the company's gross for the holiday shopping season, which officially kicks off on November 1st.
The Dinosaur Shoe Store is the fourth web property owned and operated by KidzFeet. The company also operates children's footwear retail website My Kids Feet (http://www.mykidsfeet.com) and Stride Rite Toledo (http://www.strideritetoledo.com), which it operates in partnership with Curavo Shoes, Inc. The company's fourth property, The Salt Water Sandal Store, closed in March due to supply problems. For more information, visit http://www.dinosaurshoestore.com.
###