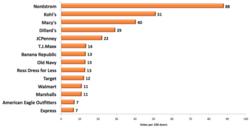 We discovered that a liberal return policy is the retail attribute that matters most to consumers
Boulder, CO (PRWEB) March 06, 2013
Nordstrom is the nation's favorite fashion retail chain, according to an annual consumer study conducted by Market Force Information, a worldwide leader in customer intelligence solutions. The upscale department store edged out Kohl's, which had ranked first in the three previous studies. This year, Kohl's moved to the No. 2 spot overall, followed by Macy's, Dillard's and JCPenney.
The study of more than 4,000 consumers was designed to uncover which fashion retail chains they like most, as well as why they prefer one to another. It also ranked the top retailers in five different fashion sub-categories, where Nordstrom emerged as the favorite for business wear and evening wear, Kohl's for casual wear and children's clothes, and Dick's Sporting Goods for sports apparel.
Market Force first calculated the favorites based on total votes, and then factored in the number of locations for each chain for a weighted view of the results. Of the 14 chains studied, Kohl's initially amassed the highest number of votes, which can be attributed to the fact that it has more than 1,100 stores. However, when viewed as a calculation of votes per location, Nordstrom took the top spot. See Graph 1.
"Nordstrom has cultivated a distinctive brand over the past century, and while it's known for its selection of designer clothing, its real claim to fame is quality customer service," said Janet Eden-Harris, chief marketing officer for Market Force. "We weren't hugely surprised to see Nordstrom and Kohl's rank one and two in this year's study, since both brands share a customer-centric approach that breeds loyalty, recommendations and customer delight."
Consumers Favor Ross for Value, Nordstrom for No-Hassle Returns
Market Force also looked at how the favorite fashion retailers compared in various attributes to determine if they set apart the leaders from the rest. Crowd-favorite Nordstrom led in six of the eight attributes, from great service to merchandise selection. Banana Republic ranked second in the influential customer service category, followed by American Eagle Outfitters, a brand that performed consistently well across the board. Off-price retailers Ross, T.J. Maxx and Marshalls earned the highest marks for their value, while Kohl's was lauded for its loyalty program. The top five in each category are shown in Graph 2.
"While all of these attributes combined provide a structure for an excellent customer experience, we discovered that a liberal return policy is the attribute that matters most to consumers," said Eden-Harris. "Retailers that recognize customer service doesn't end once a purchase is made have the ability to build a longstanding, trusting relationship with their customers."
Sub-Category Rankings – Who Won in Business Attire and Who Conquered in Kids Clothes?
While Nordstrom earned top honors as the favorite overall fashion retailer, other chains rose to the top when survey respondents were asked to rate their favorite brands in specific fashion categories, including casual wear, business wear, children's clothing, sports apparel and evening wear.
Kohl's, with its broad selection of affordably priced clothing, landed in the top three in every category except evening wear, including ranking as the overwhelming favorite in casual wear and children's clothes. Nordstrom was the decisive leader in the business wear and evening wear categories, with Macy's coming in a distant second in both. Dick's was far and away the preferred retailer for sports clothing, followed by Sports Authority and Kohl's. The children's clothing category rankings were the closest, with Kohl's edging out a lead over Carter's, and Target taking the third-place spot.
Survey Demographics
The survey was conducted in February 2013 across the United States. The pool of 4,000 respondents reflected a broad spectrum of income levels, with 60% reporting household incomes of more than $50,000 a year. Respondents' ages ranged from 18 to over 65. Approximately 40% were men and 60% were women and nearly two-thirds are married.
For more information on Market Force's customer intelligence solutions for the retail industry, visit http://www.marketforce.com/industries/retail
About Market Force Information
Market Force is the leading global customer intelligence solutions company for multi-location businesses, including major retailers, restaurants, grocery and convenience stores, financial institutions, entertainment studios and consumer packaged goods companies. With more than 125 years of combined industry experience, Market Force Information has pioneered the industry with a suite of customer intelligence solutions – from 600,000 field associates across North America and Europe who conduct mystery shopping, merchandising and retail auditing, to real customer surveys and proprietary decision-support tools. Its solutions provide a holistic view of the customer's on-site experience and identify the actions required at the store level to increase customer loyalty and improve financial performance. Market Force was named one of Forbes' America's Most Promising Companies in 2011. For more information, visit http://www.marketforce.com.
###