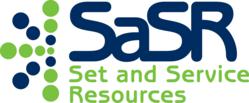 Stop by and visit us at GlobalShop Booth # 1651.
Raleigh, NC (PRWEB) March 26, 2013
Set and Service Resources (SaSR) will participate as an exhibitor at the upcoming 2013 GlobalShop Conference, which will take place April 16-18, 2013 at McCormick Place in Chicago, IL. Set and Service Resources will be one of over 600 exhibitors at the event, which is sponsored by A.R.E. (Association for Retail Environments), a retail trade association consisting of industry leaders who offer cutting-edge solutions in the retail products and services industry.
"The GlobalShop conference has been a great venue to meet some of the top professionals in our industry." said CEO Erik Hanvey. "We have established key partnerships through our past attendance and look forward to a great event this year."
GlobalShop is the world's largest annual event for retail design and shopper marketing. It's the only show in the world where to find the largest, most comprehensive array of store fixture companies and more in-store solutions than any live event in the nation. GlobalShop brings the retail design community together under one roof, providing attendees and exhibitors with business opportunities to build successful brands.
Stop by and visit us at GlobalShop Booth # 1651.
About Set and Service Resources
Set and Service Resources is a leading provider of retail staffing services in the US. We provide temporary labor and permanent placements for Merchandisers, Installers, Project Managers, Sales Associates, Store Managers, Event Marketers and Demonstrators. Set and Service Resources has a national database active jobs seekers local to your retail locations and has filled over 170,000 retail jobs. For more information about SASR's service offerings, contact David Petrovich at (919) 741-5642 or email at dpetrovich(at)sasrlink(dot)com. Visit us on the web at http://www.sasrlink.com
About GlobalShop
GlobalShop is the world's largest annual trade show and conference dedicated to store design, visual merchandising, and shopper marketing. Connecting the retail design industry every year since 1993, GlobalShop features an enormous expo floor filled with innovations for visual merchandising in retail, shopper marketing trends and the newest products for store design. Hundreds of the industry's top suppliers pack the exhibition hall to display their latest products and services. For more information about GlobalShop, visit http://www.globalshop.org.