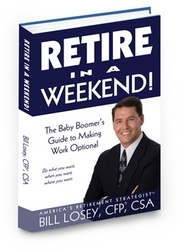 All of their concerns and questions are exactly the same. My book addresses them all and provides real world solutions to retirement.
Wilton, N.Y. (PRWEB) February 27, 2008
There are many books on personal finance and retirement but none based on feedback from over 5,000 pre-retirees and retirees nationwide. Over the past year, Bill Losey, author of Retire in a Weekend! The Baby Boomer's Guide to Making Work Optional, surveyed his clients, hundreds of people who've attended his retirement and investing workshops, as well as thousands of subscribers to his free, award-winning newsletter, Retirement Intelligence®. With more than 12,000 responses, Losey discovered their biggest retirement concerns and the most significant questions they wanted answered.
"When I listened to my seminar attendees express how they were confused, and sometimes overwhelmed with all the conflicting financial information available, I knew I had to do something," Losey explains. "Most couldn't make sense of all the information. They didn't know what did or didn't matter to their situation, and they didn't know how to synthesize and apply it all. Most importantly, they were hungry for straight talk, not some fear-based sales pitch. As a result, my book is short, simple, easy-to-understand, and laced with humor."
Losey's book provides straight answers and sound advice in a user friendly, humorous format. It is easy to read in a few hours over the course of a weekend. It shows people how to do what they want, when they want, where they want so they can truly make work optional.
Some of the topics Retire In A Weekend! covers include:

The five biggest retirement concerns - and exactly what you can do about them
Answers to the 10 most common questions about retirement
How to bullet-proof your retirement plan
How to retire today
Everything you wanted to know about money, inflation, social security, but didn't know to ask
The absolute best and proven investing strategy
"It doesn't matter who I am speaking to: male, female; high or low net worth; married or single; widowed or divorced," says Losey. "All of their concerns and questions are exactly the same. My book addresses them all and provides real world solutions to retirement."
"Stop asking yourself if you can retire. It may be a bold statement, but with my book you'll learn how to actually do it."
The book also includes a free DVD, The 10 Biggest Mistakes People Make When Retiring & How You Can Avoid Them. For more information, about the book and retirement planning, visit http://www.retireinaweekend.com or http://www.myretirementsuccess.com
Bill Losey is a graduate of Marist College and obtained his certification in financial planning from The College for Financial Planning in Denver. He is a member of the Financial Planning Association, the Society of Certified Senior Advisors and the National Ethics Bureau. Losey has nearly 20 years experience in the financial services industry and is a Certified Financial Planner™ practitioner, a Certified Senior Advisor and Certified RSP-Trained Retirement Coach. He is the founder of National Retirement Planning Month, and publishes Retirement Intelligence ®, a free weekly award-winning newsletter that reaches thousands of subscribers worldwide. As a qualified professional in the areas of retirement strategies and investment alternatives, Bill has been interviewed on CNN, FOX News and Bloomberg Business Radio. He is a former guest host of "Money Matters", a financial commentator for RNN-TV, and guest host of the "Issues on Aging" radio program. He currently lives in upstate New York with his wife and children.
###