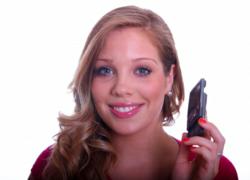 The Reverse Phone Lookup App website system searches over one billion phone records in the United States.
Detroit, MI (PRWEB) November 05, 2012
Do parents know who's calling their children? That's the question that one company is asking parents that have provided cell phones for children to use. Free reverse cell phone lookups are now offered through the http://www.reversephonelookupapp.com website that is powered by the Phone Detective service. Any user can now search data entirely online for any entered cell phone, prepaid phone or landline phone to find out the identity of a caller. Parents with young children now using cell phones are using this resource to help keep children safe.
Mobile phone usage is now topping over 300 million users each year in the United States. Telecommunications data is released annually that has reported the trend of young children and teens that are now using cell phones for communication. While there are no laws that limit the use of children using cell phones, the incoming calls to a child's cell phone could pose a threat to personal safety if not monitored by parents.
The Reverse Phone Lookup App website system searches over one billion phone records in the United States to provide updated information to anyone searching a number online.
While prank calling declined in the 1990s in part due to Caller ID, the use of cell phones has made it more difficult to trace a number that is unlisted or that comes from a prepaid cell phone. The data that is normally collected and published by phone companies for landline and contract phones is not normally published by no contract or prepaid phone companies.
The reverse prepaid phone search function on the Reverse Phone Lookup App website offers a fast insight into any prepaid phone number. Someone that is receiving prank calls or other bullying through the use of non-traceable phones could benefit from this brand new service online. Both free and premium searches are now available that give basic and detailed information during search requests.
The Reverse Phone Lookup App website is constantly updated with new phone records as more data is collected from offline data companies and other sources that provide the information that is displayed in search results. A person that uses this system to find his or her own information can have it updated or removed by making a formal request online.
About Reverse Phone Lookup
The Reverse Phone Lookup application is a revolutionary telecommunications project that has been released online. A database of over one billion phone records are now accessible online that include the ownership information that average people need to stay safe from prank calls or bullying through cell phones. The Reverse Phone Lookup app website is powered by the Phone Detective company that provides the data that is provided through its premium and free searches that are now offered online. The once private information now provided through the Reverse Phone Lookup system is in use by companies, individuals and families in the U.S.