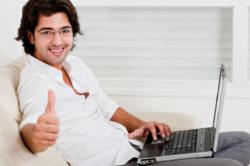 The Email Finder search tool that is now available can be used with social media websites.
Miami, Florida (PRWEB) November 13, 2012
Reverse email lookup company, Email Finder, is now providing a social media account search tool for online email searches. This tool is linked to a database of over one billion records. Someone conducting a free search can find the ownership information of nearly any email address or social media account in the world. This new search tool can be used for personal or business use to locate the owner of an email address or partial email address when someone does not know the owner's name. The search tool can be accessed using this tool online.
The expansion of social media online is helping some people to stay connected with lost friends, relatives and others that become hard to find as people separate. Most social websites provide a simple search system that allows someone to search a social website for registered users. The Email Finder search tool that is now available can be used with social media websites. This tool can provide the ownership information of an email address for verification purposes.
Companies that hire employees through the Internet or correspond with potential employees can be at a disadvantage without a face-to-face meeting. Cyber crimes are growing in many cities due to the ease of impersonating another person online. Companies can use the new Email Finder tool to verify a person's name, last name, location or IP address to ensure that all correspondence is valid online.
Online dating websites still remain a popular way for two people to meet and begin a relationship. While verification of some user information is now required, email addresses are still one of the pieces of information that can be easily misrepresented. The new Email Finder search functions can be used by anyone using an online dating website that wants to verify the email address of someone corresponding with them online.
The Email Finder service now offers free and premium reverse email searches to obtain email ownership information, location information and IP address information discretely on the Internet.
About Email Finder
Email Finder offers anyone in the world a simple way to locate the ownership information of any email address. Over one billion records are searched instantly when someone conducts an online lookup. This system is now in use by businesses, individuals, public companies and others that need to verify ownership information of an email address. The Email Finder service is a new feature that is possible through the expansion of data management online. Free and premium search functions are available that provide more in-depth email ownership information.