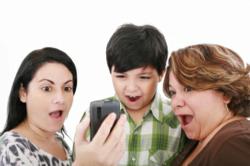 These numbers include contract and prepaid phone numbers that can be difficult to trace relying solely on Caller ID systems.
Miami, Florida (PRWEB) November 06, 2012
The Phone Detective service now offers online cell phone searches as part of its new features available. This reverse phone lookup provider has expanded its online offerings to include the lookup of any U.S. cell phone number. These numbers include contract and prepaid phone numbers that can be difficult to trace relying solely on Caller ID systems. A free reverse phone lookup request or premium one can be made entirely online to allow easy access to phone number ownership information. The new cell search function can be accessed on this page of the Phone Detective website.
A recent marketing survey was conducted that revealed that phone numbers are still the preferred method of contact for many people. While email has grown in usage in the past 10 years, the use of phones has increased due in part because of cell phone usage. Direct mail companies and others that collect data from consumers continue to collect phone numbers to use for marketing purposes.
The database of over one billion records now available to users of the Phone Detective service is helping people to locate friends, family or unknown callers. 
One blockade that phone users have when verifying who is calling is the routing services that are now used. Some digital phones rely on third party companies to port a virtual or digital number to an actual landline phone. It is these virtual numbers that often are displayed on Caller ID systems making it more difficult to verify the actual caller. 
One of the features included with the premium searches of the Phone Detective search service includes phone carrier information and GPS location information. These two features are designed to help locate who issued a phone number and the location where a call was made.  This information could be useful to families, friends or law enforcement when determining the actual owner of a U.S. phone number. More information about this service can be found here http://www.seattlepi.com/business/press-releases/article/Reverse-Cell-Phone-Lookup-Service-Provider-is-3692257.php.
Phone use among teens and children has increased in the past 5 years according to telecommunications data. Phones are now one of the primary forms of contact between girls and boys ages 8 to 17. Parents that purchase phones for children now have access to lookup any number that is found in the call logs or recent call history to determine the person calling into a child's phone. This information is now delivered safely and instantly through the Phone Detective search system. 
About Phone Detective 
The Phone Detective service is one of the first data companies online to offer instant searches for almost all U.S. phone numbers. While landline phone usage has decreased in the U.S., cell phone and prepaid phone numbers have become more popular and these new types are now included in the Phone Detective online search portal. The concept of the reverse phone search system has helped the Phone Detective company to grow into one of the largest providers of lookup services and background check services in the world.