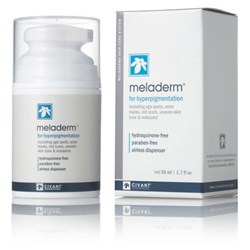 the larger freckles that I had were much less noticeable
San Diego, CA (PRWEB) March 29, 2013
Men and women all over the world have spent millions trying to correct hyper-pigmented skin; skin that suffers from sun damage, acne scars, freckles, ageing spots or other areas of discoloration. For many years, dermatologists and beauticians have been using laser treatments and resurfacing, in order to reduce hyper-pigmented skin, but this solution can cost thousands.
New research out today by AwesomeAllDay.com tests the effectiveness of at-home skin lightening and brightening cream, Meladerm.
Meladerm, the brainchild of celebrated beauty brand Civant Skin Care, was developed in 2003 to provide a steroid-free, paraben-free, hydroquinone-free cream that could be used by all to reduce spots of discoloration. Its topical use was designed in order to reduce the uneven skin tone resulting from age or liver spots, freckles, sun damage, melasma, acne marks, scar tissue, birthmarks, dark patches of skin on the elbows, knees or knuckles or general uneven skin colors.
"We all dream of a flawless, even skin tone," said Product Researcher Lisa King. "However, years of sun exposure, leftover scar tissue from acne or just changes as we get older have left our skin dull and freckly or patchy. That's why we spend so much on cosmetics, BB creams and other full coverage products, without treating the skin at source."
It's 49.99 per bottle of Meladerm and Civant says it "lasts roughly 7 weeks." A rough estimate puts it at $1 per day which is very reasonable considering the "results will generally be permanent." Ms. King recommends purchasing at The Official Meladerm Website which guarantees an authentic product, consistent pricing & stock, and excellent support.
Meladerm contains a combination of high-concentration active ingredients such as licorice and mulberry extracts, natural amino acid Tego Cosmo C 250, and the plant-derived skin-lightener Gigawhite. These ingredients are used in combination with vitamins A and E which have long been used to reduce fine lines and wrinkles. Meladerm also contains exfoliation ingredients, which assist in removing dirt and dead skin from the epidermis, allowing the fresh skin underneath to surface. The product has been developed without carcinogens, parabens, steroids or other toxic ingredients.
"When I conduct my reviews, I follow the instructions to the tee, in order to provide a fair and accurate finding. My review of Meladerm was no different; I used the product every day, waited ten minutes before applying my SPF moisturizer, avoided direct sun and solariums and repeated this routine for 8 weeks," continued King. "After 2 weeks I noticed an overall brightening and after the full two months, the larger freckles that I had were much less noticeable and the smaller ones had virtually disappeared."
With over 13,000 fans on Facebook, Civant's Meladerm is firmly in the mainstream and an economic alternative to expensive dermatology or surgery procedures. The product can be used by men and women of all ethnic backgrounds, although those with darker skin may need to use the product for a longer time to see the same results as those with fair skin.
"We all want products that deliver results and aren't harmful to our skin," concluded King. "Meladerm is a product that you can be assured uses the optimum ingredients for visible results, whilst exploiting technology so that we can benefit from the very best that nature offers.
To access the full review please visit: http://www.awesomeallday.com/meladerm-review/.
About Awesome All Day Reviews
AwesomeAllDay.com is an established product review site, based out of California, covering a wide range of products from Beauty to Garden. Disclosure: We receive commission for purchases made through recommendations on this website which help fund ongoing dedication to unbiased product reviews.