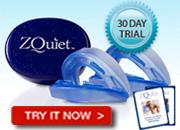 I have recommended the ZQuiet as one of the best devices because of its 'living hinge technology' ... that allows the user to move the jaws, talk or even take a drink at night.
San Diego, CA (PRWEB) March 08, 2013
It has been cited that over 40 million of us suffer from sleep disorders, across America. In fact, some reports show that up to 70% of households are plagued by at least one snorer (1). But the anti-snoring market is an expansive one, with all manner of pills, strips, sprays and mouth devices available. Research outfit AwesomeAllDay.com commissioned a review of the ZQuiet, to see whether it ranks among the best anti-snoring mouthpieces.
It is hard to believe that something as simple as a mouthpiece can help reduce snoring, but comprehensive overview conducted by Dr Victor Hoffstein suggests that "the evidence available at present indicates that oral appliances successfully 'cure' mild-to-moderate sleep apnea in 40–50% of patients…" (2)
"Many anti-snoring devices severely restrict the movement of the mouth during the night, by locking the jaws into place," said Product Reviewer, Brian Lemis. "One of the reasons that I have recommended the ZQuiet as one of the best devices is because of its 'living hinge technology'; a proprietary, thermoplastic elastomer frame that allows the user to move the jaws, talk or even take a drink at night."
Those who are concerned with the safety of the plastic device can put their worries at bay knowing that the device is FDA cleared. It does not contain either latex or BPA and passed tests with results showing that it was not considered cytotoxic and not considered a dermal irritant. (3) FDA Clearance also means that it "effectively achieves its intended purpose." (4) (5)
Lemis adds, "Unlike many other devices, the ZQuiet can be used straight from the box, with no tricky or time-consuming molding or adjusting. There are no repeated visits to the dentists for molding it and setting it up to fit your mouth. To completely adjust to ZQuiet in your mouth, it may take anywhere from a few hours to a few weeks. This is the time it takes to condition your jaw muscles into position while wearing the mouthpiece."
Sleep deprivation has recently been suggested to be linked to cancer, with the repetitive oxygen starvation making it more likely that a snorer will contract the disease. (6) For a long time, snoring has been associated with other health concerns such as congestive heart failure and strokes, but the ongoing problems of sleep deprivation can also lead to relationship problems, depression and exhaustion.
"There has never been a better time to tackle snoring problems head on, now that the ZQuiet is also offering a 30 day trial for just $9.95," concluded Lemis. "The costs of getting professional help from a dentist or orthodontist are so prohibitive that many of us feel that there is nothing we can do. But the full price of the ZQuiet after the trial is just $59.95. Overall, the benefits far outweigh the cost of investment, in my opinion."
Lemis states, "I highly recommend ordering directly through the company's website to ensure authenticity, safe checkout, proper warranty & money-back guarantee."
Lemis' ZQuiet Review features both the pros and cons of the device, as well as information on FDA clearance, its best place to buy, shipping and returns. To access the full review please visit: http://www.awesomeallday.com/zquiet-review/.
Sources:
(1)statisticbrain.com/sleeping-disorder-statistics/
(2)ncbi.nlm.nih.gov/pmc/articles/PMC1794626/
(3)accessdata.fda.gov/cdrh_docs/pdf9/K093407.pdf
(4)zquiet.com/O2/index.aspx?
(5)accessdata.fda.gov/cdrh_docs/pdf12/K122475.pdf
(6)ncbi.nlm.nih.gov/pubmed/23371889