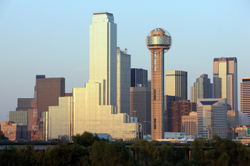 Dallas, TX (PRWEB) December 2, 2008
The City of Dallas will host a full-day "Design Charrette" this Friday to examine the necessary framework and community impact of what will become the first fully sustainable, urban square block in the United States. The Charrette, attended by community design and urban planning experts from across the nation, will be held at City Hall from 8:30 am until 5:30 pm. The outcome of the day will include a series of recommendations which will in turn structure an international design competition to create the actual block. That competition, which kicks off in January 2009, will invite architects and planners from around the world to translate the needs of the Dallas Community into structural designs for the future city block.
"The goal is to create the first fully sustainable block downtown," said Brent Brown, Dallas architect and founder of the Building Community Workshop. "And by sustainable, we mean a place that is socially, economically and environmentally healthy. We'll take the first step in that effort on Friday."
Hosted by the City of Dallas, San Francisco-based Urban Re:Vision and Dallas' Building Community Workshop, the Charrette will look at the common city block in an uncommon way, examining the impact of this particular city block's development on the City of Dallas and its surrounding area. In rethinking the city block, experts will re-assess the potential value of available resources like water, waste, and air and how to strike the delicate balance between economy and equality.
"Our job on December 5th is to explore how pivotal the city block is in the urban landscape, and how it can be used as a catalyst for a whole new way of living," said Stacey Frost, Founder of Urban Re:Vision. "This process is one that puts real people first and promotes sustainability."
Potential requirements, barriers, and changes will be examined in an effort to pave the way for the implementation of the proposed site. This examination will also serve to aid both site-specific, and regional decision-making. Topics will include: energy systems, transportation, the natural and developed environment, community, the economy and technology.
Additional groups involved include Downtown Dallas, The Real Estate Council, Central Dallas Ministries, The Institute for Urban Policy Planning, Dallas Institute for Humanities and Culture, Enterprise Foundation, Fannie Mae Foundation, Vision North Texas and others. Participants from outside the Dallas area include representatives of the Biomimicry Institute, Architecture for Humanity, ARUP, Organic Architect, United States Green Building Council, and others.
Media attendance will be strictly limited, RSVP required
Location: Dallas City Hall
Date: December 5, 2008
Timeline:
8:30 - 10:30:Registration, Discussion & Mayor's Welcome
12:00 - 1:30: Lunch / Interviews
4:00 - 5:30: Presentation of Regional Plans / Question and Analysis
About Re:Vision:
Re:Vision is a diverse group of people focused on changing the urban landscape by re-imagining all the components that make up a city block. From energy to transportation to commerce to community, Re: Vision believes that by finding innovative, healthy and sustainable ideas to help revitalize one urban block, we can create a blueprint for better cities everywhere.
Led by founder, Stacey Frost, Re:Vision is committed to creating the national prototype for sustainable urban living via a six-part, international competition. This competition solicits innovative, actionable plans from industry professionals and concerned citizens that address the environmental, transportation, energy, economic, and design needs of our urban areas. At the completion of the competition an entire major-market city block will be renovated into a wholly sustainable urban community thereby creating a template that can be incorporated into additional cities throughout the United States. Additional information can be found at http://www.urbanrevision.com.
About bcWorkshop:
The buildingcommunity WORKSHOP (bcWORKSHOP) was founded in 2005 by Brent Brown as a multi-disciplinary community design resource. The bcWORKSHOP seeks to improve the liveability and viability of communities through the practice of thoughtful design and building.
The independent organization is governed by an advisory board and funded through the building community WORKSHOP Donor Advised Fund at The Dallas Foundation. Through formal partnerships, it intends to provide all individuals access to thoughtful, quality design by engaging architects and students in the active facilitation of community building. The bcWORKSHOP seeks to first understand the financial, social, technical, and design strategies required to build livable neighborhoods of choice and recognizes that the physical environment is not the only determinant of neighborhood viability.
Through a project based approach incorporating a participatory design process, the bcWORKSHOP is committed to providing high-quality design services that result in desirable places/buildings to live. bcWORKSHOP (http://www.bcworkshop.org) is affiliated with the following groups:
UTA SOA
Frazier Revitalization, Inc
Enterprise Foundation
Central Dallas Community Development Corporation
City of Dallas, Housing Department
Dallas Architecture Forum
Press Inquiries:
Ian Bryan or Amy Senn
Re:Vision Media Relations
Tel: 828.242.1868
###