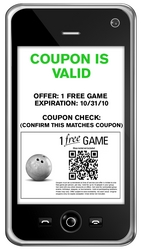 "It is now critical to empower local merchants with solutions to validate and track redemptions of these high-value coupons." - Jonathan Treiber, CEO of RevTrax
New York, NY (PRWEB) November 17, 2010
RevTrax® (http://www.RevTrax.com) announces the launch of RevTrax Local™, a coupon fraud protection solution for daily deal sites and their participating local merchants. The solution can validate both printed and mobile coupons.
RevTrax Local offers coupon validation on a smart phone without requiring a special mobile application, a major advantage over the recently launched Groupon application. In addition, RevTrax Local also works with all standard barcode scanning applications. RevTrax Local can also be used online via any web browser.
"With the increasing growth of daily deal websites, it is now critical to empower local merchants with solutions to validate and track redemptions of these high-value coupons. We're excited to partner with these websites to provide the resources and technology expertise to enable robust coupon security for the local market," said Jonathan Treiber, CEO of RevTrax.
RevTrax provides RevTrax Local as both a standalone offering that can be easily integrated into a daily deal website's order management and e-commerce process, as well as an add-on to RevTrax's complete self-service product for end-to-end coupon management, security and tracking.
RevTrax Local helps merchants automate key pieces of coupon security and analytics:

Dynamic codes: Each high-value coupon delivered has a unique QR code.
Real-time Validation: Merchants can instantly validate a coupon by simply scanning the QR code on any smart phone.
Centralized Redemption Data: RevTrax provides real-time reporting to help manage valid redemptions in one centralized place.
In addition to RevTrax Local, RevTrax provides coupon security, tracking and analytics to help many of the nation's largest retailers, restaurants and consumer packaged goods companies mitigate the risks associated with coupon fraud and maximize the effectiveness of marketing efforts.
About RevTrax®
Headquartered in New York City, RevTrax is a leading provider of technology solutions to help multi-channel merchants track the effectiveness of digital media on offline transactions. The RevTrax platform offers clients an unmatched ability to securely deliver, track and optimize promotions across email, paid search, display, rich media, mobile and other digital media. Visit RevTrax online at http://www.RevTrax.com or call 1-866-996-TRAX(8729).
RevTrax® and RevTrax Local™ are trademarks of OnCard Marketing, Inc. d/b/a RevTrax. All other marks herein are the property of their respective owners.
# # #