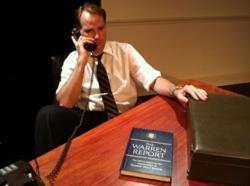 "Only those who dare to fail greatly can ever hope to achieve greatly." -- Robert F. Kennedy
Philadelphia, PA (PRWEB) April 30, 2013
New City Stage Company is thrilled to announce their first fundraising event of 2013 -- "Mr. Kennedy Goes to Washington" -- which will take place at the Adrienne Theatre on June 4, 2013. Doors open at 7 p.m. with a complimentary buffet and cash bar for three full hours. This one-night-only event features television and film actor Russ Widdall as Senator Robert F. Kennedy, with a brief performance beginning at 8 p.m. Tickets are only $20 in advance ($25 at the door) and can be purchased online or by calling 215-563-7500.
This special event is exactly 45 years to the day that Bobby Kennedy won the Democratic Presidential primary in California, making him the lead contender for the 1968 Democratic nominee for president. He made a riveting speech, which was also his last, just before midnight. Senator Kennedy was shot on June 5 and died on June 6, 1968. As always, his loving wife Ethel was at his side, as well as several of his children.
To honor the memory of Bobby, actor Russ Widdall will recreate the speech given at the Ambassador Hotel in Los Angeles on June 4 on its 45th anniversary. The event will celebrate Senator Kennedy's moving oratorical skills by featuring other speech highlights. He was known for the eulogy he gave following Martin Luther King, Jr.'s assassination in April 1968 and the commencement address at the University of Capetown in South Africa in 1964.
There will be a full complimentary buffet from our season sponsors: Oh! Shea's Irish Pub, Qdoba, Day by Day, Marathon Grill, Porcini Restaurant, Couch Tomato Cafe and more.
Cash bar featuring wine and beer as well as our special "Kennedy Summer Punch."
There will also be Kennedy memorabilia and collectibles, as well as door prizes, such as tickets to see "RFK" and other theatre events in Philadelphia.
Seating is limited.
For those who cannot attend the fundraiser or would like to make an immediate donation, please click here.
All proceeds from the "Mr. Kennedy Goes to Washington" campaign will directly support New City Stage Company's production of "RFK" in Capital Fringe Festival, July 11 - 28, 2013. "RFK" will be performed at the Studio Theatre in downtown Washington, DC.
About the Event
Mr.Kennedy Goes to Washington Fundraiser
June 4, 2013
** One night only! **
Doors open at 7 p.m.
Live performance at 8 p.m.
Tickets: $20 in advance, $25 at the door\
For more information:
Interviews, information and all press coverage:
Contact Publicist Ginger Dayle at Ginger.Dayle(at)NewCityStage(dot)org or 215-603-9600.
Please request all interviews and complimentary press tickets at least 24 hours in advance.
*** There are a limited number of press tickets available for this event. ***
About the Show
New City Stage Company presented the Philadelphia premiere of "RFK" by Jack Holmes at the Adrienne Theatre in October 2012. The critically acclaimed show starred Russ Widdall from HBO's "The Wire" and was directed by Ginger Dayle. The show was critically acclaimed and extended, and will be returning to the Adrienne Theatre beginning October 31, 2013 after appearing at the Studio Theatre in Washington, D.C. in July.
The Philadelphia Inquirer says:
"The history play RFK is special in several ways. It puts us easily into another era — and in this production, with time-machine force. It's exceptionally well performed by Russ Widdall, and shifts back and forth in time, but does so with grace and electricity."
About New City Stage Company:
New City Stage Company, founded in 2006, is dedicated to presenting high quality professional theatre that engages audiences on a variety of levels; not only entertaining them but also encouraging awareness of issues relevant to the community. We draw our season from contemporary and classical works, with a special focus on including Philadelphia premieres from local playwrights, and form storytellers whose work is not normally found in the region.