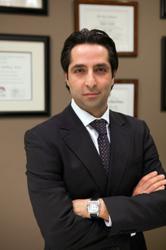 "We have incredible technology today. The fountain of youth is at our disposal, but no matter how advanced the tools of the trade may be, we can't forget that they are only as good as the mind and the hands that are controlling them."
Los Angeles, CA (PRWEB) March 29, 2013
Having conducted thousands of consultations with individuals considering cosmetic nose surgery, Los Angeles Rhinoplasty Surgeon, Dr. Rady Rahban, knows what concerns these patients most. Regardless of what they may be seeking to remedy. There are six words any patient will invariably utter before their consultation is over: "I want a natural looking nose." According to Dr. Rahban, the key to delivering what they want is in understanding what they are really trying to say: they want to avoid the "done" look. By pinpointing the exact anatomy of such a look, Dr. Rahban has developed a precise methodology, which artfully prevents against what patients so fear. The result of which, is a beautiful, natural looking nose. Owing to his insightful approach and masterful results, Dr. Rahban has become one of the foremost specialists in revision rhinoplasty and has established himself as among the best rhinoplasty surgeons in Los Angeles. With the launch of his premier plastic surgery website, he is now bringing his services and revolutionary approach to an international audience.
As patients can now read about on his website, Dr. Rahban's breakthrough lies in the fact that he has dissected exactly what can go wrong and translated this data into an exact replicable system, which defends against any such occurrence. Recognizing what so many cosmetic surgeons have failed to see, he has taken the guesswork out of rhinoplasty, enabling him to predictably achieve natural looking results.
"We aren't reinventing the wheel here," said Dr. Rahban. "The technology is there. All I have done is applied a different logic to the problem – a new way of thinking." Born out of his unique analysis comes a truly algorithmic approach to building a beautiful nose, which many are now calling the future of rhinoplasty.
"We've all seen individuals with that unfortunate 'done' look," Dr. Rahban says. "On any such individual, I can narrow down what went wrong to one of just five classic mistakes." An over-scooped "ski-slope" nose, a pinpoint tip, an over rotated or "piggy nose", a super narrow nose, or a nose with collapsed nostrils – these are the things that make for an unnatural look. These are what patients want to avoid. He goes on to describe each in detail, but the common denominator to each of these mistakes is in the approach.
Cosmetic surgeons commonly attempt to address patient's needs with what is known as reduction rhinoplasty. As implied, this method centers primarily on the removal of cartilage and other tissue. Often, the inexperienced or careless surgeon is overly aggressive in this approach, leaving the patient with one or more of the above classic deformities. Unfortunately the problem doesn't stop there. With an improper structure, both the form and function of the deformed nose unfailingly worsen over time – often leading to respiratory problems and even a gradual collapse of the nose itself.
Dr. Rahban's method focuses instead on reconstruction of the nose. As he states, "It takes the mind of an engineer, the eye of an artist and, of course, the hands of a trained surgeon. You have to know what looks good and know how to build something that will function properly and last forever." An accomplished artist outside of the workplace, Dr. Rahban offers what few other surgeons can. It is this multi-disciplined approach that sets his work apart as the best rhinoplasty Los Angeles has to offer.
When asked how he formulated his unique approach, Dr. Rahban describes his extensive experience in dealing with patients seeking corrective or revision rhinoplasty in Los Angeles. Far too often patients come to Dr. Rahban because they are unhappy with the aesthetic or functional results of a previous surgery. "I have seen every mistake that can be made," he remarks. "While these cases are unfortunate, I take great pride in helping patients achieve the look they originally wanted, while also fixing the breathing difficulties that so often come along with an improper operation. They are happy again, and that makes me happy."
These experiences have given Dr. Rahban uncommon insight into creating a harmonious and natural looking nose. The process also requires an understanding of how to create a look that is in keeping with a patient's ethnicity. As a leading cosmetic surgeon in a culturally diverse city, Dr. Rahban has also made a name for himself offering the best ethnic rhinoplasty Los Angeles residents can get.
In an ever progressive industry, Dr. Rady Rahban has set himself apart – not by touting some latest and greatest technological breakthrough, but by stepping back and taking a new look at what many in his field have missed altogether. "I have always been the problem solving type. I like to approach things with a scientific mind," he divulges. "We have incredible technology today. The fountain of youth is at our disposal, but no matter how advanced the tools of the trade may be, we can't forget that they are only as good as the mind and the hands that are controlling them."