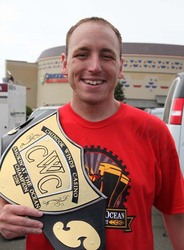 Lincoln City, Ore. (Vocus) July 12, 2010
A sunny day at Chinook Winds Casino Resort was the site of the #1 eater in the world Joey Chestnut Sunday July 11th. Joey "Jaws" Chestnut of San Jose California devoured 9.5 pounds of Barbecue Pork Ribs in just 12 minutes. Chestnut was only 4 ounces away from his own world record. 13 eaters took on the world's number one this year, but none of them had the intestinal fortitude to dethrone Joey "Jaws" Chestnut. This first place triumph keeps Chestnut on top of the world of competitive eating and earned him $1500 and the Barbecue Belt. Second place was only 1 pound of pork behind at 8.5 pounds eaten by #4 in the world Patrick Bertolleti from Chicago for a $750 prize. Third place with $500 of prize money went to Ben Monson at 7.65 pounds of ribs. This annual event held at Chinook Winds Casino Resort is an IFOCE (International Federation of Competitive Eaters) sanctioned event.
$5,000 was donated to the Lincoln City Backpack Program which provides food to school children in need. In addition, the Charity Celebrity Competition earned 9 different charities a share of $1,600. Davis Shows NW which provided the Carnival Rides donated an additional $1,500 to the cause after the event.
Full Results:
Joey Chestnut, San Jose, CA, 9.5 pounds
Patrick Bertolleti, Chicago, IL, 8.5 pounds
Ben Monson, Twin Peaks, CA, 7.65 pounds
Erk Denmark, Seattle, WA, 5.50 pounds
Ryan McKillop, Sacramento, CA, 4.50 pounds
Jason Erb of Vancouver, WA, 3.65 pounds
Jeremy Williams, 3.35 pounds
Cameron McKirdy, Eugene, OR, 3.05 lbs.
Andrew McKirdy, Seaside, OR, 3 pounds
Ryan Rodacken, 2.95 pounds
Phil Zerda, 2.90 pounds
Gary Dennis, 2.35 pounds
Chris Scott, 2.15 pounds
Chinook Winds Casino Resort offers 24-hour Las Vegas-style gaming, 18 hole golf course, headline entertainment from some of music's most legendary stars, three full service restaurants, secure childcare facility and arcade, and a 227 room ocean view hotel. Chinook Winds Casino Resort is located on the beach in Lincoln City, Oregon and is owned and operated by the Confederated Tribes of Siletz Indians. For more information please visit http://www.chinookwindscasino.com or call 1-888-CHINOOK (244-6665).
Ribs are Better at the Beach
###