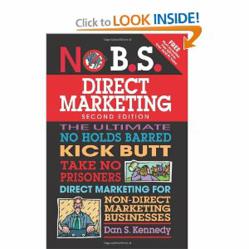 Richard Seppala is a leading authority on data mining for direct marketing, what he refers to as cracking the DNA code of customer and prospect databases. --Dan Kennedy
Orlando, FL (PRWEB) March 28, 2013
Best-selling authors Richard Seppala and Dan Kennedy released the second edition of 'No B.S. Direct Marketing' book. Kennedy dares marketers to dramatically simplify their marketing, refocusing on what works. This new book is updated to address the newest media and marketing methods. This marketing master plan delivers a short list of radically different, little-known, profit-proven direct mail strategies for any business. Strategies are illustrated by case history examples from an elite team of consultants — all phenomenally successful at borrowing direct marketing strategies from the world of mail-order, TV infomercials, etc., to use in 'ordinary' businesses including retail stores, restaurants, and sales.
About Richard Seppala
Richard Seppala, also known as "The ROI Guy™," is a marketing expert, business consultant and best-selling author who helps companies maximize their profits by accurately measuring the ROI (Return on Investment) of their marketing efforts. His latest revolutionary tracking system, "The ROI Matrix," measures to the penny just how much revenue each specific marketing placement generates for a client.
Richard founded his "ROI Guy" company in 2005. In addition to his acclaimed marketing tracking systems, called "The Holy Grail of Marketing," he also supplies businesses and medical practices with cutting-edge sales solutions designed to facilitate the conversion of generated leads to cash-paying customers.
By identifying marketing strengths and weakness, The ROI Guy™ is able to substantially boost his clients' bottom lines by eliminating wasteful spending on ineffective marketing, as well as leveraging advertising campaigns that prove the most profitable. By providing "all-in-one" automated systems that allow for the real-time tracking of each generated lead, a business can easily access valuable marketing data with just a few keystrokes.
Richard's marketing expertise is regularly sought out by the media, which he's shared on NBC, CBS, ABC and FOX affiliates, as well as in The Wall Street Journal, USA Today and Newsweek. He's also launched his own television show, "ROI TV," which features interviews with other top marketing specialists.
To learn more about Richard Seppala, The ROI Guy™, and how you can receive free special reports and other invaluable marketing information from one of the country's leading experts, visit http://www.YourROIGuy.com or call Toll-Free 1-800-647-1909.
About Dan Kennedy
Dan S. Kennedy is the provocative, truth-telling author of seven popular No B.S. books, thirteen business books total; a serial, successful, multi-millionaire entrepreneur; trusted marketing advisor, consultant and coach to hundreds of private entrepreneurial clients running businesses from $1-million to $1-billion in size; and he influences well over 1-million independent business owners annually through his newsletters, tele-coaching programs, local Chapters and Kennedy Study Groups meeting in over 100 cities, and a network of top niched consultants in nearly 150 different business and industry categories and professions.
As a speaker Dan has repeatedly appeared with four former U.S. Presidents; business celebrities like Donald Trump and Gene Simmons (KISS, Family Jewels on A&E); legendary entrepreneurs including Jim McCann (1-800-Flowers), Debbi Fields (Mrs. Fields Cookies), and Nido Qubein (Great Harvest Bread Co.); famous business speakers including Zig Ziglar, Brian Tracy, Jim Rohn, Tom Hopkins, and Tony Robbins and countless sports and Hollywood celebrities. Dan has addressed audiences as large as 35,000 and for more than ten consecutive years, he averaged speaking to more than 250,000 people per year.
Dan lives in Ohio and in northern Virginia, with his wife, Carla, and their Million Dollar Dog. He owns, races and drives professionally in about 100 harness races a year at Northfield Park near Cleveland, Ohio, and frequently televised on the TVG cable network.
Vanessa Belmonte
Your ROI Guy
Vanessa (at) YourROIGuy (dot) com
888-453-4603
"Richard Seppala is Proud to support The H.O.M.E. Foundation"
About The H.O.M.E. Foundation:
The Helping Others Means Everything, or The H.O.M.E. Foundation, is a not-for-profit organization dedicated to helping our Family of Charities. Frankie Verdugo, President of The HOME Foundation, wants to help as many worthy charities as possible as they struggle during these tough economic times. Frankie Verdugo helps raise funds through luxury dream home raffles, home giveaways, prizes, and high profile celebrity events in Hollywood... "Our mission is to help charities reach their fundraising goals and to bring awareness to their praiseworthy causes."