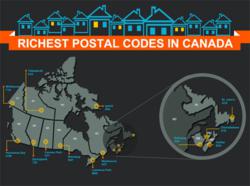 Canada is a home of many affluent individuals because of its powerful and diverse economy. We thought that visualizing how the wealth is spread across Canada will be fascinating for our visitors
(PRWEB) March 26, 2013
CanadaFAQ.ca today announces the publication of a new infographic (http://www.canadafaq.ca/richest-postal-codes.php), targeted at Canadian visitors and worldwide audience.
Created by Tsveta Todorova, the lead web designer at CanadaFAQ, the infographic visualizes Canada's richest neighbourhoods and residential areas. The information graphic took 2 weeks to design and research on the toniest neighbourhoods in Canada.
"Canada is a home of many affluent individuals because of its powerful and diverse economy. We thought that visualizing how the wealth is spread across Canada will be fascinating for our visitors," said John Williams, marketing consultant at CanadaFAQ.
The infographic visualizes the richest and most influential postal codes in Canada's provinces and territories. Lawrence Park is an affluent residential area in Toronto, neighbouring top notch restaurants, high-end shops and boutiques, and other amenities. There are upscale clubs and schools such as the Crescent School and Toronto French School. Westmount is an exclusive residential neighbourhood and a wealthy enclave in Montreal. It is known for upscale properties, beautiful parks, and notable current and former residents such as the Bronfman family and Brian Mulroney. Springbank is a wealthy community and a prestigious enclave in the Rocky View County. Lanny McDonald and the Mannix brothers live in this wealthy suburb. The average cost of real estate is between $1 and $6 million. Horseshoe Bay, a community located in West Vancouver is the most exclusive postal code in British Columbia with the average house price exceeding $1 million.
Yellowknife, NT, Charlottetown, PEI, and Iqaluit, NU are residential areas with low end home prices. Yellowknife offers affordable housing options and urban amenities and is known for notable residents such as Tobias Mehler and Kevin Koe. Charlottetown is a compact but vibrant city situated on Prince Edward Island. It is a city of beautiful churches, Georgian row and Victorian-era houses, universities, beautiful parks, and touristy boutiques. Iqaluit, the capital of Nunavut, offers varied accommodation options and functional homes. Local attractions include archaeological sites, park reserves, and museums.
The new infographic visualizes the richest postal codes in Canada to provide valuable information in an entertaining way.
About CanadaFAQ.ca: http://www.CanadaFAQ.ca is an informational resource developed and designed to offer unbiased information on anything Canadian.