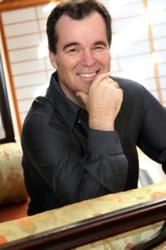 My real estate investing conference will not be dishing out the same old lines that you hear from real estate agents, mortgage brokers, bankers and even the traditional media
London, England (PRWEB) February 28, 2013
Property master, Rick Otton, has been teaching people in the UK how to become home owners, or property investors, since 2003. To commemorate this 10 year milestone, his Zero-Debt Property Cash Flow Conference will reveal how to invest in property with no deposit, even in the current economic climate.
"Different people have different property goals, whether it is to become a home owner-occupier, an investor who buys and sells homes, or one who wants to make money through property by becoming a transaction facilitator," said Mr Otton. "But whatever their objectives, this conference - an ultimate wealth summit - will deliver them creative, non-bank strategies that will help them become a reality."
The Zero-Debt Property Cash Flow Conference is being held over 3 full days, Friday 19 April, Saturday 20 April, and Sunday 21 April 2013, in Maidenhead, UK.
In the 10 years since Mr Otton has been mentoring aspiring property investors in the UK, many of his students have built impressive real estate investment businesses and property portfolios.
"I was able to sell my house to a tenant-buyer and made £343cash flow per month with a back end profit of £57,995," said Trish McGirr.
And John Wilson revealed that by using Mr Otton's strategies "I sold a traditional 3 bedroom semi in Scotland in less than 3 months. I received £4,000 upfront, £149 cash flow per month and back end profit of £23,500!"
Mr Otton teaches property options strategies that allow people to buy and sell properties, even in challenging economic times, without the involvement of banks - and the hurdles that such traditional institutions put in the way of aspiring home owners.
"My real estate investing conference will not be dishing out the same old lines that you hear from real estate agents, mortgage brokers, bankers and even the traditional media" explained Mr Otton. "We will be looking a new ways of investing, strategies that everyday Brits can use to buy and sell property - real property options."
To kick things off Mr Otton has created a Power Property Profits Pack, a no-cost download package that includes videos on how to buy a house without a bank loan, how to get started in the property game, and a cheat sheet on four ways to buy property at a discount.
This how to invest in property pack is available at http://www.rickotton.co.uk, together with more information about the Zero-Debt Property Cash Flow Conference.
About Rick Otton
Rick Otton has spent decades making money by snapping up inexpensive real estate and putting it to work building wealth. He is the founder and CEO of We Buy Houses, which operates in the U.S., U.K., Australia and New Zealand putting his strategies to work every day. Otton received his start in alternative real estate investment in 1991 and within a year acquired 76 properties. In the following years, he made a fortune using his low-risk, high-reward strategies to inexpensively acquire real estate.
These days Mr Otton shares his progressive property strategies as a real estate educator, teaching others how to buy and sell real estate without cutting banks and other middlemen in on the deal. In 2008 Rick revealed his strategies in the United Kingdom and became the creator of 'Houses for a Pound'. Otton has been featured in a variety of television programs and magazines.
Details of Mr Otton's UK Zero-Debt Property Cashflow Conference are at RickOtton.co.uk