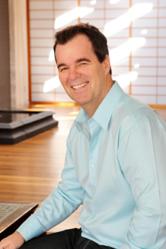 My property transactions happen successfully because I determine what buyers and sellers in the market are trying to achieve and then make things happen for them quickly
London, England (PRWEB) March 06, 2013
Australian property mastermind, Rick Otton, has reassured property investors in the UK that it's entirely possible to make money in property and gain financial freedom even in a stricken market. During a Creative Real Estate iTunes podcast, Mr Otton said alternative property investment strategies were needed to successfully navigate the market's high and lows.
Mr Otton said that during a three-day ultimate wealth summit he is holding for UK residents in April, he would share his simple, yet effective strategies for managing 'upside down loans' on negative equity properties, no-money-down investments and snaring smart deals even during tough times.
"The British economy is not great right now and the traditionalist would say, 'Well, you can only make money in a rising economy'," Mr Otton said.
"But I'm not so much interested in the actual house or property as in finding a solution to people's problems. My property transactions happen successfully because I determine what buyers and sellers in the market are trying to achieve and then make things happen for them quickly. This has a gratifying effect that's not just financial."
Recession-proof Real Estate Strategies
Special UK guest, Danny Unthank, told the podcast he had been using Mr Otton's strategies with great success.
"Well, to be honest with you, the economy is working in my benefit," he said. "The downturn in the market and the way that the banks are actually treating their customers are all OK for me. For example, I was speaking to a lady that had 25 properties she wanted to get rid of.
"I told her there was a way we could transact that deal over a period of time which would make the bank's high redemption figure automatically disappear. She was ecstatic that she could actually get rid of the full 25 properties in her portfolio without any bank costs."
Mr Unthank said he was "absolutely speechless" by the effectiveness of Mr Otton's non-conventional real estate investment methods, particularly those which coached investors on how to make profits from a negative equity property situation and on making property deals without having money.
He'd been using Mr Otton's unconventional strategies for the past 18 months. During this time, he had accumulated a property portfolio and was making £20,000 per transaction without spending any of his own money.
"I couldn't believe that strategies like these existed," he said.
The information-packed free podcast is now available at CreativeRealEstate.com.au
Details of the April real estate investment conference being held in Maidenhead, are at RickOtton.co.au
About Rick Otton
Rick Otton has spent decades making money by snapping up inexpensive real estate and putting it to work building wealth.
He is the founder and CEO of We Buy Houses, which operates in the U.S., U.K., Australia and New Zealand putting his strategies to work every day.
Otton received his start in alternative real estate investment in 1991 and within a year acquired 76 properties. In the following years, he made a fortune using his low-risk, high-reward strategies to inexpensively acquire real estate.
Now, Otton shares the wealth by sharing the wisdom, teaching others how to buy and sell real estate without cutting banks and other middlemen in on the deal.
In 2008 Rick revealed his strategies in the United Kingdom and became the creator of 'Houses for a Pound'. Otton has been featured in a variety of television programs and magazines.
Details of Mr Otton's UK Zero-Debt Property Cashflow Conference are at http://www.RickOtton.co.uk