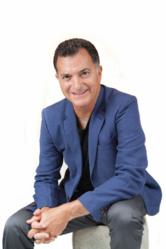 "Morgan Stanley has a strong interest in the career success of our country's young adults," said Mark Seruya, Executive Director, Morgan Stanley, Smith Barney
New York, NY (PRWEB) November 15, 2012
Today's focus has been on the impending Fiscal Cliff that is looming over our nation's economy. As our politicians play a high-risk game of poker, business leader and bestselling author Ricky Cohen believes there was never a better time for entrepreneurship and risk taking.
As a response to concerns of an unstable economy, staggering unemployment, rampant underemployment and high drop- out rates, Cohen is launching Risk to Succeed Inc. a workshop series sponsored by Morgan Stanley. "There is no better time than a recession to launch a new entrepreneurial effort. Even in the current environment, smart risk-takers have amassed more wealth than nations. Now is the time to equip the next generation of young people with the skill set needed to thrive," says Cohen.
The Risk to Succeed Inc. program is set to roll out in a number of schools across the tri-state area in the coming weeks. "Morgan Stanley has a strong interest in the career success of our country's young adults. We believe that Risk to Succeed Inc. will provide essential tools to help guarantee that success," said Mark Seruya, Executive Director, Morgan Stanley, Smith Barney. Participants of the workshops will have the opportunity to further develop the principles presented in Risk to Succeed, and to master those tools.
The workshops are based on the Amazon bestseller Risk to Succeed: Essential Lessons for Discovering Your Unique Talents and Finding Success (McGraw-Hill, Nov. 2012).
Well-respected in the retail and real-estate world, Cohen's notoriety in media has skyrocketed due to the peak in sales of Risk to Succeed. The new wave of entrepreneurs, businessmen and women looking to grow their careers in innovative ways has resulted in the placement of Risk to Succeed on 6 of Amazon's Bestseller lists this week. College students have also found guidance in pages of Risk to Succeed, using the business fable format to reveal their interests and skills and thereby identify the career choice best for them.