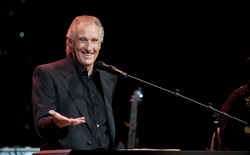 Branson, MO (PRWEB) November 11, 2010
He's won a Grammy Award. He was inducted into the Rock and Roll Hall of Fame by Billy Joel, one of his biggest fans. He recently spent an enjoyable hour catching up with his old pal Keith Richards.
But like many in his generation, the question he now asks a roomful of contemporaries is: "Aren't grandkids great?"
To call Bill Medley a legend is to watch a man cringe. "God, that sounds so old," growns Medley, 70.
But how else to describe a man whose soulful voice, along with the late Bobby Hatfield, provided the soundtrack for an entire generation that danced, kissed and got married to the Righteous Brothers' music?
"Guys come up to me after my show and whisper, 'Man, I had real good luck in the backseat whenever your songs came on the radio.' And then their wives say, 'Oh, we had so many wonderful and romantic moments, thanks to your music." Medley laughs. "That's the difference between men and women."
The difference between dating in the 1960s and '70s and now is less amusing to Medley. "I don't understand it," he confesses. "I feel sorry for kids now. Cell phones and email and the Internet—that's how young people get together now."
Medley has a cell phone. "It's somewhere in there," he says, sitting on his tranquil deck and gesturing to his house. "I never carry it except when I travel."
But doesn't he rely on email, Twitter, and FaceBook to stay connected with friends and fans?
"Are you kidding? Look, I can get online to play video poker. But that's about it. I don't do computers. I'm a 1960's rock and roll singer."
The Real Deal:
In an era when a star is made in one season of "American Idol"—or one video on YouTube—it's easy to forget the slower, more old-fashioned route to stardom. For Medley, the journey began in California.
Born in Los Angeles in 1940 and raised in Santa Ana, Medley grew up with music. His father led a big band and played saxophone. His mother sang and played piano. Medley taught himself to play piano. He also sang in glee club and amateur singing contests as a child. But everything changed the day he heard the music of Ray Charles.
"I became obsessed with Ray Charles, Chuck Berry, and Little Richard," recalls Medley, who dropped out of school at the age of 16. When he met Bobby Hatfield in 1962, the two already had their own separate vocal groups. "But one night we just started singing these rhythm and blues duets. Together, we were like one voice."
They found their name at the end of a 1962 performance in Los Angeles when a Marine in the audience shouted, "That was righteous, brothers!" And indeed, it was.
But the rise to the top was not always easy. "Some people said we needed to get in the Pat Boone lane," says Medley. "But that's not where we wanted to be. We liked the Little Richard lane."
After several West Coast hits, including the garage band standard "Little Latin Lupe Lu," the first major national hit for the Righteous Brothers was "You've Lost That Lovin' Feelin'," produced by Phil Spector ("That guy was a nut in training," says Medley) in 1964. It was followed by "(You're My) Soul and Inspiration" and "Unchained Melody."
From there time began to move faster for Medley and Hatfield, who toured with the Beatles and the Rolling Stones. Medley hung out with Elvis and played the lounge at the legendary Sands hotel in Las Vegas when Frank Sinatra had the main room.
"Sinatra had to approve whoever sang in the lounge because that's where his friends would go after his show," Medley says. "He called us 'the kids.' The first time we met him was in his dressing room. It was packed with all of his friends. But he cleared the room so we could talk. He talked to us for an hour and gave us advice about how to protect our voices with steam baths and hot water with honey. I still follow his advice today."
Sinatra. Elvis. The Beatles. It's not hard to see why Springfield businessman Randy Little and his partners wanted to book Medley at the Starlite Theatre in Branson.
"Bill Medley's the real deal," says Little. "My generation grew up with his music, and the younger generations know his songs '(I've Had) The Time of My Life' and 'Unchained Melody' through Patrick Swayze movies. Medley's a legend, whether he wants to admit it or not."
"It was on my bucket list"
In 2005 a 64-year-old Medley arrived in Branson, Missouri, a town known to many as a destination for country music fan and bus tours.
"I'd visited Branson before," says Medley. "I played a date here maybe 12 years ago. And I liked it then, but Branson wasn't ready for me—and I wasn't ready for it."
But as the first baby boomers turn 65 in 2010, Medley believes the time is right for rock and roll artists to play Branson.
"This is a town built on family shows like the Presleys and the Baldknobbers," says Medley. "Those guys own this town, and rightly so. But it's nice to see my generation starting to come here, too. This town is just getting ready for people raised on rock and roll."
Like many of his fans, retirement didn't sit well with Medley. "I took a few years off to raise my son after his mother died," says Medley. "But the kid's 45 years old now. He has three kids of his own."
Hence, those grandchildren. And Medley's daughter, 23-year-old McKenna Medley, has a singing voice that improbably but beautifully complements her father's in the old Righteous Brothers' numbers.
The Righteous Brother has become a Righteous Father—and a grandfather.
Medley and his current wife, Paula, a Michigan native, divide their time between Newport Beach, Calif., and a 5,000-square foot stone and timber lodge set on 20 acres in Branson, just minutes from the Starlite Theatre.
"All those years I was touring, we'd drive past rolling hills and acres and acres of land, and I'd wonder, 'How does a person get to live there?'" muses Medley. "It was on my bucket list to have a piece of land like this."
When he's not performing, Medley spends his time sitting on his deck, playing the piano ("I call it my shrink,'" he says), and enjoying time with friends and family. But when friends include people like Michael Grimm, winner of "America's Got Talent," the line between work and play can blur as evidenced by the concert film Medley's working on that will showcase the talent of Grimm and others.
And of course like any true performer, Medley is always preparing for his next show. The surprise hit of Medley's 2010 show has been the Unplugged storytelling segment during the second half of the show. That's when Medley, along with daughter McKenna and their band, move out from behind their instruments and staging to get up close and personal with the audience with a set of songs and stories that seem like a cross between MTV's Unplugged and VH1's Behind the Music. Where else can you hear the insider stories about how Blue-Eyed Soul music came to be? It's like a Rock and Roll history lesson taught by the man who actually lived it.
"The great thing about Branson is that after each show, I get to meet people in the audience and hear their stories," he says. "This is the first time in my life I've ever been able to do that. You don't have a clue what your music means to people until you hear it with your own ears."
The most powerful stories, he says, come from Vietnam veterans. "They tell me they played our music over and over, and that it got them through their darkest days. They thank me and I thank them. Music is a powerful thing."
And if the 70-year-old rocker ever starts to get tired after singing "Rock and Roll Heaven," "Unchained Melody, "Time of My Life," "(You're My) Soul and Inspiration" and "(You've Lost) That Lovin' Feelin'," six days a week, he needs only to look out and see the faces in the audience.
"These are the guys who were in the backseat," he says. "These are the guys who went to Vietnam. How can I not want to give them the best show I can give?"
For more information about Bill Medley and his new show at the Starlite Theatre, call (417) 337-9333 or visit http://www.starlitetheatre.com to see clips of Medley in concert. Fans of Medley can join the exclusive Facebook group "Bill Medley Live."
###