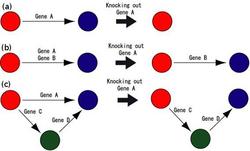 (PRWeb UK) August 18, 2010
Their findings, reported in Molecular Biology and Evolution, reveal a key balance between the roles played by duplicate genes and metabolic network connectivity in functional compensation.
Despite many decades of research, the relationship between genes and their phenotypic effects remains poorly understood. The standard approach of knocking out individual genes to assess their role runs into the problem of genetic robustness: cells compensate for gene loss by reproducing the gene's function via other means, concealing its actual phenotypic effect.
Narrowing this effect to metabolic products, two functional compensation mechanisms enable cells to do this: gene duplication and alternate metabolic pathways. To explore the relative contribution of each, the researchers analyzed 35 metabolic products – 17 primary metabolites and 18 secondary metabolites – from 1976 genes in mutants of the model plant Arabidopsis thaliana. Using liquid chromatography-mass spectrometry (LC-MS), an analytical chemistry technique, they compared what happens to production of these metabolites when genes with and without duplicates are knocked out.
Results reveal that only duplicate genes with very high similarity play a significant role in functional compensation, mainly in the production of secondary metabolites and in functions associated with multiple metabolic products. Alternative pathways, in contrast, were found to compensate for the production of primary metabolites, which are more highly-connected in metabolic networks.
Together, the results uncover a complementary relationship between compensation mechanisms in A. thaliana, indicating that duplicate genes play an important role only when the number of alternative pathways is low. By exposing the mechanisms separating genes from their phenotypic effects, the findings thus shed valuable new light on the gene-phenotype relationship, laying the groundwork for new theoretical models in systems biology.
For more information, please contact:
Dr. Kousuke Hanada
Gene Discovery Research Group
RIKEN Plant Science Center
Tel: +81-(0)45-503-9570 / Fax: +81-(0)45-503-9580
Email:kohanada(at)psc(dot)riken(dot)jp
Ms. Tomoko Ikawa (PI officer)
Global Relations Office
RIKEN
Tel: +81-(0)48-462-1225 / Fax: +81-(0)48-463-3687
Email: koho(at)riken(dot)jp
Reference:
Kousuke Hanada, Yuji Sawada, Takashi Kuromori, Klausnitzer Romy, Kazuki Saito, Tetsuro Toyoda, Kazuo Shinozaki, Wen-Hsiung Li and Masami Yokota Hirai. Functional compensation of primary and secondary metabolites by duplicate genes in Arabidopsis thaliana. Mol. Biol. Evol. (2010). DOI: 10.1093/molbev/msq204
About the RIKEN Plant Science Center
With rapid industrialization and a world population set to top 9 billion within the next 30 years, the need to increase our food production capacity is more urgent today than it ever has been before. Avoiding a global crisis demands rapid advances in plant science research to boost crop yields and ensure a reliable supply of food, energy and plant-based materials.
The RIKEN Plant Science Center (PSC), located at the RIKEN Yokohama Research Institute in Yokohama City, Japan, is at the forefront of research efforts to uncover mechanisms underlying plant metabolism, morphology and development, and apply these findings to improving plant production. With laboratories ranging in subject area from metabolomics, to functional genomics, to plant regulation and productivity, to plant evolution and adaptation, the PSC's broad scope grants it a unique position in the network of modern plant science research. In cooperation with universities, research institutes and industry, the PSC is working to ensure a stable supply of food, materials, and energy to support a growing world population and its pressing health and environmental needs.
###