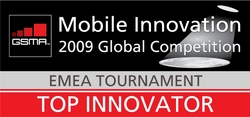 Falcon VAS Platform distinguishes itself with an attractive offer of highly scalable, integrated services
(PRWEB) February 7, 2009
KRAKOW, released last week - Wind Mobile - with their delivery platform for mobile value-added services - has been shortlisted as a finalist of the GSMA's (GSM Association) 2009 Mobile Innovation Global Competition - EMEA Tournament, and has received a Top Innovator title in The Most Innovative Carrier Infrastructure or Platform category. Wind Mobile's system - Falcon VAS Platform - enables mobile carriers to launch a range of integrated services, such as Custom Ringback Tones, Presence Notifications, USSD services or mobile video services.
"We are thrilled with the number of high-quality entries we've received for the EMEA leg of the 2009 Mobile Innovation Global Award Competition," said Bill Gajda, Chief Commercial Officer of the GSMA. "This competition will play a major role in redefining how new mobile products and services are brought to market, and provides a rare opportunity for innovators to pitch new technologies to senior executives within the mobile operator and venture capitalist communities."
The Mobile Innovation Global Competition is organized by the GSMA, aimed at selecting and showcasing the most valuable Innovation for the mobile industry. The most innovative solutions and companies are chosen by judging panels that include senior figures from leading mobile operators and venture capital organisations. Wind Mobile will compete with two other vendors in the EMEA edition of its category.
"Falcon VAS Platform distinguishes itself with an attractive offer of highly scalable, integrated services," said Igor Bokun, CEO of Wind Mobile. "These include, for example, a USSD Gateway, enabling an interactive text interface for other mobile services. However, we cannot overemphasize the role of our customers in the process of creating a high-quality product. For example, our strategic relationship with PLAY, the fastest developing Polish mobile operator, allows us to develop features and services particularly important for challengers on the mobile services market. The platform is being developed in close cooperation with our customers and they have made this achievement possible."
The final stage of the competition will take place during the Mobile World Congress, on 16-19 February in Barcelona - one of the most important event in the mobile industry. Wind Mobile will be available at booths IZ36 (Innovation Zone, Hall 7) and 2C54 (Hall 2). Visit http://www.wind-mobile.com/mwc for more information.
About Wind Mobile
Wind Mobile is a vendor and integrator of innovative systems for mobile value added services. The company is known mostly for it's highly-scalable custom ringback tone platform, but also offers solutions such as: mobile video blogging, video IVR, SMS notifications or a USSD gateway. Wind Mobile's customers include all major mobile operators in Poland: Polska Telefonia Cyfrowa (T-Mobile group), PTK Centertel (Orange), Polkomtel (Plus) and P4 (PLAY), as well as Nova in Iceland.
###