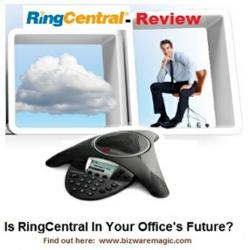 This informative RingCentral Office Review examines the benefits and features of this popular web-based IP phone solution for your company office.
(PRWEB) March 11, 2013
Recently, a RingCentral Office Review was featured on Bizwaremagic.com, a small business solutions site now entering its 11th year online. This informative review examines all the features and benefits of RingCentral's web-based PBX system - one which is suitable for any business, big or small. This is a "cloud" solution to one's office or company communications.
While RingCentral defines their product as Phone Systems Reimagined, this is basically using the Internet and IP phones to create one's own PBX (Private Branch Exchange) for the office. It's a web-based system which has many fans and this fan-base is increasing rapidly.
The review points out the obvious reasons why the popularity of these web-based phone systems, like RingCentral Office, are growing. One of the main reasons is the low costs involved - since this is a virtual system there is no equipment to install, no high-priced technician to pay, no maintenance or upkeep and there is unlimited calling within the US and Canada - all for one low monthly fee. This cost-effectiveness is steadily drawing more converts over to these web-based systems and away from traditional methods.
Next, there is the simple ease and convenience of using these virtual phone systems. Set-up only takes minutes, instead of weeks. A company or office manager has complete control of the network, users can be quickly added or dropped in seconds. Plus, this system is also completely mobile, available 24/7, anywhere. RingCentral has apps for all the latest smartphones such as iPhone, Android and Blackberry. It is one of a few systems which also works on touch gadgets.
Lastly, the review looks at the quality of customer service and the countless features associated with RingCentral Office, such as call forwarding, auto-receptionist, unlimited Internet fax, conferencing, voice mail, unlimited extensions... and many more. Despite all these features and great pricing, every company owner must make up his or her own mind on the feasibility and security of using a web-based system.
However, in these trying economic times, to stay truly competitive, any company or business must look forward to the future and new ways of connecting with both workers and clients. These companies can't afford not to at least consider the advantages and benefits of using a mobile, cost-effective and truly flexible phone system such as RingCentral Office.
To read this full Review of RingCentral Office go here: http://www.bizwaremagic.com/RingCentral_Office_Review.htm
Founded in 2002, Bizwaremagic.com is an Internet Marketing website, dealing with all aspects of running a business - online and in the real world. It has been fairly successful, welcoming millions of visitors over the years and helping thousands of business owners find new solutions to common obstacles. You can find the site on the web here: http://www.bizwaremagic.com or you can follow us on Twitter @bizwaremagic.