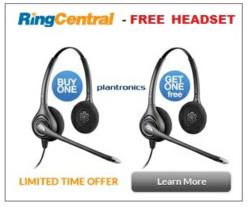 Get an extra Plantronics Headset once you sign up for RingCentral Office.
(PRWEB) March 21, 2013
Recently, OnlineFaxGuide.com, a comprehensive Internet fax guide and resource, updated its content to include a limited time offer from RingCentral. The special offer gives an extra Plantronics Headset to anyone signing up for RingCentral Office in the United States. This buy one, get an extra one deal is only available till the end of March, 2013. See the official RingCentral site for all terms and conditions.
RingCentral Office is a whole suite of products needed for running any modern front office or company, including all one's virtual phone and fax services. Anyone setting up a small company or office can get a phone number within minutes and be in business. This is a highly rated professional web-based phone company with a well established reputation and attractive rates. To view an extensive RingCentral Office Review - just click here.
RingCentral is at the forefront of "cloud" or "web" based phone and fax services which are completely mobile or portable. One can access company phone calls, messages, faxes... from anywhere and at any time. In our very wired and connected world, this mobility or location independence is essential for any business to remain truly competitive.
The free Plantronics Headset is meant to draw attention to RingCentral Office and their web-based virtual PBX phone systems. One can find out more about PBX services and the offer listed here:http://www.onlinefaxguide.com/virtual_pbx.htm
About Us:
OnlineFaxGuide.com was founded in 2006 and has helped thousands of visitors find the right Internet fax service for their needs. The comprehensive authority site on Internet faxing contains videos, slideshows, comparison charts and a very helpful guide which visitors can download for free here: http://www.onlinefaxguide.com All products/companies mentioned above are registered trademarks of their respective owners and companies.