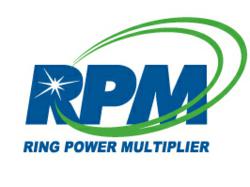 This technology is a game-changer.
Dallas, TX (PRWEB) March 28, 2013
The Technology Development Division of Texzon Utilities (Texzon), an energy company, today announced that the Australian Patent and Trademark Office issued Patent No. 2006216973 for the Ring Power Multiplier (RPM), a power conditioning and energy storage device. The RPM is a NASA-tested technology that offers continuous, instantaneous power protection, a breakthrough solution for worldwide grid stability by virtue of its ability to store AC power.
Texzon has exclusive worldwide marketing rights for the RPM technology, invented by Dr. James Corum, renowned scientist and physicist. This is the 4th awarded patent on the technology, with additional patents pending.
"This technology is a game-changer. The ability of the RPM to clean (get rid of all harmonics), magnify power, and store energy as a traveling electro-magnetic wave enables it to react instantaneously as a continuous "elastic reservoir," which is an innovative and timely solution for Smart Grids," said General Mike Miller, CEO of Texzon.
In addition to stabilizing the grid, the RPM offers a practical way to accelerate the integration of green energy - renewable resources, like wind and solar - into the grid, by virtue of its ability to store AC power as real AC power at 50/60 Hz, making it instantaneously and continuously available.
About James Corum, Inventor:
Dr. Corum was cited as a "National Treasure" by The Office of the US Secretary of Defense for his work on the DARPA National Panel of Radar Experts on Ultra-Wideband Radar and Phenomenology. His electromagnetic research has been recognized by prestigious scientific organizations and professional societies around the world.
About Texzon:
Texzon is one of the nation's leading aggregators of electricity. Texzon was recognized in Entrepreneur Magazine as one of the "Hot 100" Fastest Growing Businesses in America. Inc. Magazine also listed Texzon as a top 20 energy company in "The Inc. 500." Texzon currently operates in Texas, Ohio, Pennsylvania, Illinois and New Jersey. Texzon is also a developer of CHP (Combined Heat & Power) projects in U.S. markets.