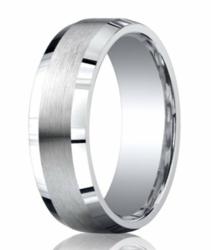 For the first time in the history of the website, JustMensRings.com is offering free shipping on all men's rings and jewelry items for unbeatable pre-holiday savings.
Jensen Beach, FL (PRWEB) November 19, 2012
The holidays start early for shoppers this year at internet retailer JustMensRings.com with a special seasonal promotion. For the first time in the history of the website, JustMensRings (JMR) is offering free shipping on all items, with same day shipping on all in-stock items. In combination with JMR's everyday low prices on men's wedding bands, fashion rings and jewelry, this free shipping special allows customers to buy their Thanksgiving, Christmas and Hanukkah gifts without having to brave the Black Friday crowds.
For shoppers already familiar with JustMensRings' below retail prices, this limited time sale provides an opportunity to save even more when buying holiday gifts, men's wedding bands and anniversary rings. Items in JMR's sale section are proving to be particularly popular, with some items marked down up to 75% off. With prices starting at just $15.95, the sale section includes some of JMR's most popular rings, bracelets and pendants, as well as newly added designer styles.
JustMensRings.com has also recently introduced hundreds of new men's rings that have been well-received by customers across the United States. Some of the most sought after new styles include affordable titanium, tungsten, Argentium silver and cobalt chrome rings, as well as luxurious men's wedding bands and fashion rings in precious metal palladium and yellow, white and rose gold. JMR carries the legendary jewelry designer Benchmark exclusively, and a significant number of just released Benchmark styles can be found gracing the site.
Other items that are proving to be holiday favorites reflect the diversity of the product selection on the JMR site. Men's wedding bands with white and black diamonds, two tone and black rings, tungsten dog tag style pendant necklaces, and men's rings with exotic wood, camo and carbon fiber inlays have been particularly popular. With plenty of affordable and luxury options to choose from, there is truly something for every budget, and fast and free shipping will surely have many early shoppers breathing a sigh of relief.
"We know Black Friday and Cyber Monday can come and go in a hurry, and shoppers are often left frazzled as a result," says JustMensRings.com's president and owner Roy Devine. "We wanted to give our customers a chance to shop on their own time while saving big for the holidays."
Free site-wide shipping at JustMensrings.com is for a limited time only and customers are encouraged to shop early to take advantage of the promotion. In addition to free shipping and below retail pricing, JMR offers a 30 day money back guarantee on all items, as well as a manufacturer backed lifetime guarantee on all Benchmark and designer men's rings.
About JustMen'sRings.com
At internet-only retailer JustMensRings.com, customers have come to expect the best possible prices on an extraordinary selection of men's rings, as well as the highest standards of service, selection and quality. The proof is in the numbers: JustMensRings.com now offers the largest selection of men's fashion rings online, and is the only store in the United States that offers men's large size rings up to size 20. JustMensRings leads the competition with an unparalleled assortment of unique and alternative men's wedding bands in a range of traditional and contemporary materials including gold, platinum, palladium, titanium, tungsten, silver, stainless steel, cobalt chrome and Seranite (or ceramic). Despite the recent rise in gold prices, JustMensRings continues to keep item pricing low and affordable, and shoppers would be hard-pressed to find better deals elsewhere. JustMensRings.com is dedicated to providing its customers with a simple and secure online shopping experience, and offers a 30 day guarantee and free shipping on all orders over $99.