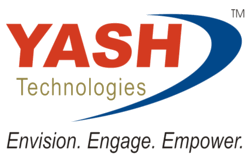 East Moline, IL (PRWEB) March 12, 2013
YASH Technologies™, an SAP® gold channel partner, and leading technology services and outsourcing partner for global companies, today announced that Rio Grande, a Berkshire Hathaway Company, has selected its proprietary solution, ManufacturingOne, a qualified SAP Business All-in-One partner solution for the manufacturing industry, as its ERP solution. ManufacturingOne provides midsized enterprises with a comprehensive ERP solution that delivers the processes and content required for a cost-effective and rapid implementation. In addition, YASH has been selected to implement the SAP Customer Relationship Management (SAP CRM) application and SAP BusinessObjects™ business intelligence (BI) solutions at Rio Grande.
"We've identified SAP as offering the right platform for scalability and growth," said Alan Bell, President of Rio Grande. "We believe that ManufacturingOne, combined with YASH's implementation methodology, will allow us to realize ROI faster than the other solutions we investigated."
As a jewelry-making tool and supply company that specializes in silver findings and fabrication materials, Rio Grande outlined the following business goals it hopes to achieve after the implementation:

Manage precious metal inventory and costing
Improve customer satisfaction level
Reduce operational cost and improve operational efficiency
Prevent fraud at the time of online purchases
Integrate ERP and E-commerce site for all purchases and payments
"Rio Grande is on a fast trajectory growth path," said Jacinto Arauz, vice president, Software Sales, YASH Technologies. "Their business has changed in the last ten years and the systems used to support their operations, implemented in 2002, are not scalable enough to support the organizational landscape today. ManufacturingOne will provide a solid platform to support them well into the future, regardless of how their markets or business models may change."
Rio Grande will leverage the following key solutions from SAP:

SAP CRM—As a customer-service-centric company, having customer information readily available during every interaction will allow Rio Grande to serve its customers more efficiently.
SAP BusinessObjects business intelligence—Although the company has vast amounts of data, it was not organized in a way to provide insightful decision making. ManufacturingOne will provide the company with the critical information required to make decisions faster.
SAP ERP—Easy integration of business process functionalities such as sales and distribution, procurement, manufacturing, and financials will accommodate growth.
The fully integrated system will provide full visibility by moving from systems that provide very little integration and no visibility between them to a single source view. This will be extremely beneficial for customer service agents who will be able to provide customers information about their orders during the whole lifecycle of the order.
For the implementations, YASH will utilize its proven implementation methodology for SAP solutions, S-Imple (Streamlined Implementations), based on Scrum principles, that delivers a comprehensive set of commonly utilized business functionality "off the shelf," with little or no customization required. S-Imple saves valuable time and money by focusing on data cleansing, conversion, design by exception, knowledge transfer and end-user learning rather than defining and configuring standard business processes. The result is a fully operational system that minimizes the need for large business and technical implementation teams.
For more information please visit http://www.yash.com/aio or email info(at)yash(dot)com.
About Rio Grande, a Berkshire Hathaway Company
Rio Grande began with a vision of better serving the jewelry industry. What started as a small operation has grown into an international distribution center for thousands of valued customers. Its vision remains much as it was when Saul Bell founded the company more than 60 years ago. Under the leadership of four directors (including three of Saul's children), Rio Grande remains an industry leader highly respected for serving customers with integrity and high standards in jewelry manufacture and distribution. For more information please visit http://www.riogrande.com.
About YASH Technologies
YASH Technologies focuses on customer success. As a leading technology services and outsourcing partner for global customers, we leverage technology and our flexible delivery models to drive performance and business value throughout a customer's enterprise. YASH's comprehensive service approach incorporates a holistic view of our customers that extends beyond delivery. This approach integrates enterprise solutions and services, proprietary best practice offerings, strategic application and maintenance outsourcing, as well as consulting and integration services. YASH is a SEI CMMI (Level 3) and an ISO 9001:2008 certified company with U.S. and India headquarters and regional sales and development offices spread across five continents.
####
SAP and all SAP logos are trademarks or registered trademarks of SAP AG in Germany and in several other countries.
Business Objects, BusinessObjects and the Business Objects logo are trademarks or registered trademarks of Business Objects in the United States and/or other countries. Business Objects is an SAP company.
All other product and service names mentioned are the trademarks of their respective companies.