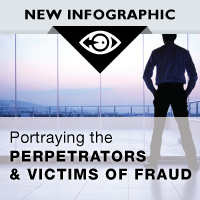 Occupational fraud risk is sometimes hard for organizations to deal with because they must scrutinize the activities of trusted employees
Purcellville, VA (PRWEB) March 27, 2013
Lowers Risk Group, a leading enterprise risk management (ERM) consulting firm, has published a new infographic that summarizes recent research from the Association of Certified Fraud Examiners (ACFE) on the hidden risk of occupational fraud, detailing the characteristics of the perpetrators and victims of these crimes.
The infographic, Portraying the Perpetrators & Victims of Occupational Fraud, is based on the ACFE's 2012 Global Fraud Study. Using an informative visual method, the infographic presents key elements of the evidence showing that occupational fraud is a costly and widespread, though often hidden, threat to organizations of all kinds. The level of risk varies with the type of organization, occupation, and characteristics of the individuals within those settings. Overall, the information makes a strong case that occupational fraud should be an integral part of an enterprise risk management plan.
Mark Lowers, CEO of Lowers Risk Group,notes that "Occupational fraud risk is sometimes hard for organizations to deal with because they must scrutinize the activities of trusted employees. But in the long run we have found that taking and communicating steps against occupational fraud actually helps create a more trusting and transparent work environment."
The research recognizes the corrosion of trust that occupational fraud causes. To counteract this, organizations can adopt proactive occupational fraud prevention tactics as part of an enterprise risk management plan. These tactics emphasize setting up measurement, monitoring, and feedback processes within the organization, especially at critical control points suggested by the research. Once implemented, these processes help to counteract the hidden nature of the fraud by being publicized within the organization and operated on a consistent, transparent basis.
The infographic is available to view at http://bit.ly/fraud-infographic and it can also be embedded into a blog post or document.
About Lowers Risk Group
Lowers Risk Group serves leading organizations worldwide with widely-recognized human capital and enterprise risk management expertise. Clients have direct access to experienced consultants and industry leaders specializing in high-risk, highly-regulated industries. The company has an international presence in North America, Europe, and South and Central America. Lowers Risk Group promises a strategic, focused approach to risk assessment, compliance, and mitigation to help drive organizations forward with confidence. Learn more at http://www.lowersriskgroup.com.