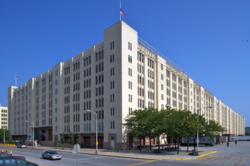 Our clients have responded positively to the move, trusting that the potential of the new venue and our new equipment there will be beneficial to upcoming projects and design initiatives.
New York, NY (PRWEB) March 19, 2013
The move will allow for growth, heightened security and an improved layout created to increase productivity across all departments. Riva will be able to serve a broader customer base.
Known and respected internationally for their vertically integrated operations, Riva Precision Manufacturing is looking forward to next week's changeover to Brooklyn. The highly anticipated move has been planned and in progress for over nine months, and much of the factory equipment has already been placed there, which is expected to provide for a near seamless transition and should not affect vendors or orders in progress. The Brooklyn Army Terminal space is 37,500 sq/ft on one floor, ensuring that Riva has plenty of room to grow. A Brooklyn Resident, Ted Doudak, CEO of Riva Precision, is a proud New Yorker and is interested in becoming a productive part of the Brooklyn economic community by bringing manufacturing jobs and business to Brooklyn Army Terminal. Mr. Doudak says, "The road to success is almost always under construction. The pursuit of excellence never ends."
BAT is also excited about the move. "The influx of new businesses to the Brooklyn Army Terminal is evidence of our commitment to making it a premier destination for industries looking for workspace, and is a shining example of what can be done through adaptive reuse of the City's industrial spaces," said Kyle Kimball, NYCEDC Executive Director. "We are thrilled to have Riva Precision Manufacturing join the impressive roster of businesses already located at the Brooklyn Army Terminal. Their arrival will only further establish BAT as a model urban industrial park that houses some of the City's most cutting-edge companies."
Vertically-integrated and up-to-date with the latest technology, Riva Precision Manufacturing works with fine jewelry to create sterling silver, gold, and platinum jewelry, providing exquisite attention to detail and clients, the product development department has been preparing for the move for months and is enthusiastic about the prospect of it.
Lori Mahler, Product Development Director of Riva says, "Our clients have responded positively to the move, trusting that the potential of the new venue and our new equipment there will be beneficial to upcoming projects and design initiatives."
Riva Precision also launched their ISO Certification Program Training on February 22nd, 2013 and anticipates finishing the certification by Feb. 2014.The certification will cover 9001/13485. This will allow the company to better serve jewelry customers as well as venture into other industries, since quality systems are part of each and every mature industry.
Another exciting initiative Riva is looking forward to is partnering with a variety of businesses within their Brooklyn space that would be beneficial to partner with in cross-referring business. The types of businesses being considered are eternity band manufacturers, findings manufactures and watchmakers of exceptional quality. Applications are still being considered.
In a humorous mood, Ted Doudak, CEO of Riva Precision, says, "Back in 1985 it cost me $1,800 to move to this blessed land of opportunities. In 2013, it is costing Riva over a $1 Million to move to The Brooklyn Army Terminal. Hard work and God's blessings, brings miracles."
For more information about Riva, visit their website or email info(at)rivaprecision(dot)com.
About Riva
Riva Precision is a state-of-the-art manufacturing facility located in The Brooklyn Army Terminal. Founded by Ted Doudak in 1988, hands-on experience and the pursuit of excellence combine to provide a full-service jewelry manufacturing operation. Traditional jewelry making, casting, setting, laser engraving, laser welding, stamping, computerized prototyping, polishing, chain making, enameling, and model making are examples of the expertise their technicians and craftsmen have mastered. Consistently embracing new technologies, Riva Precision strives for excellence in every conceived piece of jewelry, as well as in encouraging a positive workplace.
About NYCEDC
New York City Economic Development Corporation's Brooklyn Army Terminal is the premier location for companies seeking to lease commercial, light industrial or back office space in NYC. With high tech, cultural and financial services companies working alongside those in bioscience, fashion and other industries, the BAT community reflects the diversity of NYC itself. Since 1981 NYCEDC has made over $165 million in improvements to the property to transform the facility into an industrial campus. The building is now over 97% occupied and there are about 3,200 jobs at BAT.