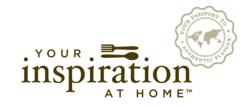 The honour is amazing! These awards have the toughest food critic judges in Australia. It is truly inspiring.
Gold Coast, Australia (PRWEB) March 06, 2013
Your Inspiration at Home™ (YIAH) amassed a total of 18 medals at The Royal Melbourne Fine Food Awards when winners were announced on February 28. YIAH was the most awarded company within the Pantry Goods & Spices category.
YIAH entered 25 products for consideration to the awards show, which is quickly becoming Australia's premium fine food event, attracting exhibitors from across the nation. From the 25 YIAH submissions, 18 were awarded medals, with top awards – a gold medal – going to the Lime Cracked Pepper Salt seasoning. The specific comment noted on the results from the judges simply read, "Outstanding product."
Other products receiving high marks from the judging panel included Mongolian Dip Mix, South African Cape Rub, Outback Coffee Rub, Australian Alpine Pepperberry Salt and many others from YIAH's growing portfolio of authentic internationally themed spices and flavourings. YIAH Founder and Spice Curator, Colleen Walters, commented, "The honour is amazing! These awards have the toughest food critic judges in Australia. It is truly inspiring." The show is produced by the Royal Agriculture Society of Victoria and a complete list of award winners is available on their web site at rasv.com.au.
This latest recognition is an impressive follow-up to the 45 medals won in the 2011 Hobart Fine Food Awards from the 56 entries YIAH submitted. Such industry acclaim has helped make YIAH the most awarded Australian direct sales company and spurred the company's growth into new markets, including the UK. Just last month, YIAH celebrated its first expansion into the United States.
Your Inspiration at Home is a global direct-sales company specializing in unique food products like spice blends, flavoured oils, specialty sugars and salts, teas and more. Items are inspired by ethnic regions and custom blended to make cooking fast, simple and healthy (with no added gluten, MSG or preservatives). To deliver their Passport to Authentic Flavour™, company founder and spice curator Colleen Walters travels the world for inspiration and personally develops every culturally-unique blend. YIAH consultants introduce the ethnically-inspired creations to customers at fun "tasting" parties where friends gather to eat terrific food, laugh, share recipes and learn how to easily prepare cultural dishes. For more information about YIAH, visit yourinspirationathome.com.au.