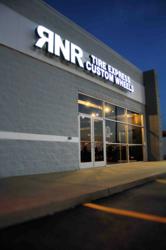 "We're very optimistic and excited about opening here."--Larry Carrico, RNR franchise owner
Marion, IL (PRWEB) November 13, 2012
A new RNR (Rent N Roll) franchise has opened in Marion, IL at 2402 Williamson County Parkway. Rent N Roll is a leader in the custom wheel and tire rent-to-own industry, offering top-of-the-line merchandise with financing options that make quality custom wheels and tires a reality for any budget. What is different about this particular RNR location is the way it is paired. Larry Carrico, owner of the new RNR location, as well as 4 other RNR locations, is also the owner of Rent One, a traditional rent-to-own business specializing in appliances, furniture, TVs and computers. Rent One and RNR are conveniently located next to each other with a door that connects one store to the other. In Marion, these two stores have come together for one mission: To bring custom wheels, performance tires, and passenger tires to an established customer base looking for affordable options in a market that has seen sizeable price increases over the last few years. "We want to offer an option to our customers to get top-quality custom wheels and tires in a way that meets their budgets. Where a few years ago, they may have been able to get a set of passenger tires for, say $400, now they're looking at prices more in the $500 to $600 dollar range. That's a big increase. We can put them on a payment plan that meets their budget ."
Mr. Carrico is excited about opening stores in Marion, what he called a "progressive" city. "The local government, mayor, and community were very supportive, and that support goes hand in hand with success. We've had a great experience in Marion and our fastest opening ever. We're very optimistic and excited about opening here," says Carrico.
According to Mr. Carrico and the co-owner, Rich Bergman, RNR is not your typical wheel and tire store. Says Bergman, "The look and feel of the store is different, more contemporary—and the shop floor is so clean you could eat off of it!" The new RNR location in Marion is also offering front-end alignment with state-of-the-art equipment and plenty of advice and assistance. "In the end," says Bergman, "we want to educate our customers about how to get the most out of their tires. They're putting a lot into them, and they should get a lot of life out of them."
Also interesting in the new Marion store is their store manager, Breanne Bergman, one of very few women in the industry. "Breanne is a huge asset to our business. Not only does she understand safety and tires, but she can many times relate to women better and settles for nothing less than perfection. She definitely gives us a competitive edge in the industry," says Carrico.
The RNR Experience
RNR customers are provided a program that allows them to pay for the custom wheels and tires that they want in easy weekly, bi-weekly, or monthly installments with no credit hassles. In addition, customers are offered the lowest cash prices on wheels or tires and have a huge selection of both new and previously rented merchandise. RNR carries just about every major brand in the custom wheel and tire industry, including: Dub, KMC, Michelin, Goodyear and many more. For information on RNR, contact our Corporate Offices at 813.977.9800.
ABOUT RNR Franchise
Headquarted in Tampa, Florida, RNR Custom Wheels and Tires operates tires and wheels stores and has become a dominant force in the wheel and tire industry by offering retail, rent-to-own and other payment options to those who want to own custom wheels and quality tires. Our innovative approach combines 40+ years of rent-to-own experience with extensive knowledge of the wheel and tire industry. RNR currently operates franchise locations in 21 states and has eight affiliate stores in Tampa, Florida. For additional information on franchising, contact John Armatas at 855.844.8377 or visit our franchise website at http://www.rnrfranchise.com.