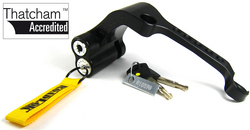 Our locking systems are cutting edge in design and safety and this has now been recognised by this well-respected testing procedure.
Newburgh, NY (PRWEB) January 4, 2011
RoadLoK Security, award-winning developer and manufacturer of patented locking systems for power-sport vehicles, has received Thatcham certification and rating on their XRA locking system. Thatcham is a not-for-profit organisation providing a unique range of products and services to the insurance and motor repair industries. Thatcham works closely with vehicle manufacturers to influence the design of new vehicles with a goal to improve safety and security.
THE NEWS
RoadLoK Security has been working with Thatcham who have independently tested and now certified that the RoadLoK XRA complies in all areas of quality and manufacturing and is able to withstand a variety of security attacks and conditions (including mechanical and chemical) to provide complete and secure immobilisation of the vehicle.
All versions of the RoadLoK XRA are now accredited by Thatcham for security and safety including the special branded models for Aprilia and Moto Guzzi. "We are satisfied that this unique system (RoadLoK XRA 307/308) fully meets the Thatcham Performance Test Specifications as a motorcycle mechanical immobiliser", states Steve Launchbury, Project Engineer for Thatcham. Thatcham Certification also means potential insurance discounts for motorcycle riders in the United Kingdom and Europe when installing a RoadLoK XRA locking system to immobilise their vehicle. (Individual circumstances and location will apply)
John Keogh, Designer and UK Commercial Liaison Director for RoadLoK Security states, "It is very important that the RoadLoK system has now gained Thatcham approval as a competitive consumer product within the UK motorcycle market. Our locking systems are cutting edge in design and safety and this has now been recognised by this well-respected testing procedure. This new rating highlights that there is no better or convenient system to immobilise your motorcycle or scooter."
The XRA system immobilizes a bike preventing tampering or theft but without risk of accidental ride-off and subsequent damage and rider injury. The unique design of the XRA locks the front rotor without risk to the front mudguard or forks as the lock is permanently mounted to the caliper. Bike performance is unaffected due to the extremely low weight of the locking system (326 gms). Stringent testing has been completed by RoadLoK Security and its OE customers to ensure vehicle performance is not affected when the system is installed.
WHERE DO I PURCHASE A ROADLOK IN THE UK?
All Authorized Aprilia, Moto Guzzi and RoadLoK specialist distributors carry the RoadLoK system. Dealerships will also be able to order the product through the Aprilia and Moto Guzzi Genuine Accessories catalog. The system is designed for easy installation that can be done by the customer or by any Authorized Dealer.
ABOUT ROADLOK SECURITY
RoadLoK Security, LLC is a New York based licensing and manufacturing company that specializes in the design and production of model-specific vehicle locking systems. The RoadLoK system is patented both domestically and internationally. The RoadLok is the only locking system that safely and effectively prevents roll away theft. The System is designed to be permanently mounted on a motorcycle, thereby eliminating the need for storing the lock while riding. The system's permanent mounting eliminates any lock or rotor movement so no damage can occur to calipers, brake mountings, mudguards or worse, the rider, should they forget to unlock the System before riding off.
All RoadLoK Systems are backed by a Limited Lifetime Warranty and full customer support. RoadLoK Security strives to create the best locking systems available while offering superior customer service. Over the past five years the model range has extended from a single Suzuki Hayabusa locking system to encompass Harley-Davidson models, Victory Motorcycles, Japanese and European sport bikes. Model coverage information is available on the company website at: http://www.roadlok.com.
FOR MORE INFORMATION:
thatcham.com or call:
United Kingdom: +44 (0)1635 868855
roadlok.com or call:
US: (888) ROADLOK to find an Authorized Dealer near you.
International: 0800-802057 (Austria)
Facebook: ROADLOK®
###