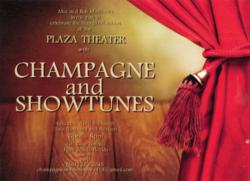 "Where else, but Palm Beach can you find exceptional performances offered in an incomparable setting?" says Bob. "You simply cannot replicate the experience of The Plaza Theatre coupled with such superb performing artists."
Palm Beach, Florida (PRWEB) April 25, 2013
Mia and Bob Matthews are known for being enthusiastic supporters of Palm Beach arts and entertainment. The inviting Plaza Theatre is known for producing light-hearted musicals, comedies and staged readings, as well as an active and thriving performing arts conservatory. It seems to be a match made in Heaven.
On a fetching Saturday evening, April 13th, 2013, Mia and Bob Matthews opened their Palm Beach Island home to celebrate the inaugural season of The Plaza Theatre. The Matthews identified the event, as a "friend-raiser" which introduced 100 + guests to the Theatre and shared with them the lineup for the upcoming season.
Alan Jacobson, producing director of the Plaza Theatre expressed, "We are honored that Mia and Bob have opened their home to introduce our Theatre to the community. Mia has performed in two of our shows, will be in two more this upcoming season, and has been a wonderful friend to us. We are excited for the future, and the role they will play in helping the Plaza Theatre thrive."
For Bob Matthews, Palm Beach is the perfect venue for such a special theatre. "Where else, but Palm Beach can you find exceptional performances offered in an incomparable setting?" questions Bob. "You simply cannot replicate the experience of The Plaza Theatre coupled with such superb performing artists."
During the service of cocktails and passed hors d'oeuvres, guests were treated to a sneak peek of upcoming performances by Steve Bunin and Leah Sessa, as well as the enchanting duo of Mia Matthews and Wayne LeGette. Matthews and LeGette gave guests a one song foretaste from their approaching cabaret show, Being Alive – The Music of Stephen Sondheim, which has scheduled performances on Monday, May 13th and Monday, May 20, 2013.
"The Plaza Theatre has become a second home to me," delighted Mia Matthews. "It is where I reentered the world of acting, so it holds a special place in my heart. I am honored to be a part of The Plaza Theatre family, and have invited the Palm Beach community to join us in helping support the cultural offerings of the Plaza Theatre, and to see that it thrives for years to come."
ABOUT BOB AND MIA MATTHEWS:
Robert Matthews of Palm Beach is the Chairman of Matthews Ventures Holdings, LLC. , a diversified holdings company with interests in real estate, hotels, software, manufacturing and construction. Mia Matthews is an accomplished actress and singer. She has appeared in many film, television and stage productions. The couple is passionate about supporting Palm Beach arts through awareness and dedication to local treasures, such as the Plaza Theatre.
ABOUT THE PLAZA THEATRE:
The Plaza Theatre is a not-for-profit 250-seat theatre and home to a variety of light-hearted shows, with an occasional gripping drama, that will please every show-goer. Opened in early 2012 by Alan Jacobson, a Palm Beach Gardens resident who ran the Florida Jewish Theatre for five seasons in the 1990s and then became an independent producer of cabaret shows, musical revues and comedies. The Plaza Theatre is located at 262 S. Ocean Blvd in Manalapan, FL. For more information, please call (561) 588-1820 or visit http://www.theplazatheatre.net.
For Public Relations Information Contact:
Fat Brain Interactive
press (at) fatbraininteractive.com
http://fatbraininteractive.com
# # #