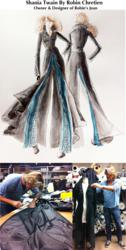 Las Vegas, Nevada (PRWEB) November 14, 2012
Robin's Jean announced today that founder Robin Chretien designed Shania Twain's outfit for her grand appearance at Caesar's Palace in Las Vegas today. Twain will arrive on the strip riding a horse to promote her new show at The Colosseum, "SHANIA: STILL THE ONE."
Robin Leach, host of VegasDeluxe.com tweeted: "Country pop princess Shania Twain "rides" onto the Strip for tomorrow's official welcome event@CaesarsPalace- & you can watch 2pm arrival."
Robin Chretien, the founder and designer of Robin's Jean, created the country princess's outfit for the appearance. Since Twain will be riding a horse, the outfit had to be functional and comfortable, but because the event was going to take place in Las Vegas, he made sure the outfit had that "wow" factor and would uphold the aesthetic and quality of Robins Jean.
Robin designed a one-of-a kind look consisting of a Western-inspired jacket and pants. The jacket is made from distressed black lambskin, and is embellished with jet black and smoke crystals. It is floor-length and features a dramatic slit that not only makes it comfortable to ride in, but also looks very appealing. The pants were also made from distressed black and turquoise lambskin. They are fitted to Shania's body to create that sexy factor, and feature the same type of crystal embellishment at the waistband and the bottom zipper as the jacket.
Robin's Jean feature a unique collection of jeans, jackets, tops, hats and belts for men and women. Represented by the gold wings logo, Robin's Jean captures Robin's childhood dream of freedom and flight. Robin arrived in Los Angeles in 1996. His skills combined with talent, caught the eye of the best denim companies in LA. In 2005, he decided to incorporate his passions for designing clothes, riding motorcycles and vintage cars with his fascination of the American Indians and the spirit that embodied warriors and their fight for freedom to create his own line, Robin's Jean. Today, Robin designs all his looks in the United States, and his unique pieces truly embody his love for freedom of the open road and the big sky.